Peter Robl Back In Winners' Circle
Sunday, 27 November 2011 18:16
Peter Robl was back in the winners' circle at Canberra on Sunday in his third race ride since completing a year-long ban.
Robl's first two rides resulted in second placings on Diamond Start at Canterbury on Saturday and Howie Park at the Canberra meeting.
His fitness was put to the test on the Gratz Vella-trained Dragon Dance as he took him along the rail to fend off Lyceum Fair by a head in the 2000m Benchmark 68.
Robl was outed for 12 months for placing bets via his wife's TAB account.
Riding honours at Canberra went to veteran Kevin Sweeney with four winners on his home track.
Further south, Jetconi won his second Wodonga Cup (1590m) for trainer Gerald Egan.
The seven-year-old, who was ridden by Jason Benbow, had not won a race since he took out the 2010 Cup with Jarrod Fry aboard.
A year ago he had to survive a protest but there was no doubting the winner on Sunday with Jetconi beating Murdoch's Joy by two lengths.
Veteran Jockey To Continue Top Form
Monday, 12 September 2011 12:15
Local trainer Mike Petrovic is more than happy having veteran Canberra jockey Kevin Sweeney aboard Avala, who resumes at Queanbeyan on Tuesday.
"A lot of young apprentices seem to go off the rails theses days. They should take a leaf out of Kevin's book," Petrovic said.
"He's still dedicated and riding as well as ever.
"He's on fire. He gets along good with Avala. Over the years I've had a lot of luck with Kevin.
"I couldn't be happier having him aboard.
Avala resumes from a 142-day break in the Peter Flood Plumbing Class 3 Handicap (900m).
Interestingly, the five-year-old Nothing Leica Dane gelding's only win in 13 starts came first-up last campaign over 1100m on his home track.
"He's a lightly-framed horse, a late maturer," Petrovic said.
"He's been back in work about nine weeks and working along well.
"Now he's an older horse I'm hoping he handles racing better.
"He used to get stressed out, stirred up, in the enclosure before racing. He appears to have settled down."
Petrovic races Avala with Canberra solicitor Craig Edwards and Anthony Georgopoulos, who used to work for the trainer.
While tried up to 1600m, Petrovic is confident Avala can sprint well fresh.
"It's been smooth sailing this preparation, no hiccups," Petrovic said.
"I haven't given him a jump out, he's pretty clean winded.
"On the track he's had a fair bit of work, enough to have him ready first-up."
Avala will carry 55kg from barrier nine.
"He's got enough early pace to be up in the firing line early, hopefully in the first three or four," Petrovic said.
"Avala, like me, likes his home track. I think he can run very well, bring in some dollars for us."
Petrovic will also saddle up new stable acquisition Kariz in the Linray Finance Benchmark 50 Handicap (1100m).
Secured as a future broodmare, the four-time winner will be ridden by fledgling apprentice, Nicole Vuille.
The barrier's (16) a problem and I'm still trying to work out the horse but I think she can run a nice race," Petrovic said.
Brown Arrives Just In Time For Guineas
Sunday, 13 March 2011 16:45
Corey Brown arrived on track just in time to guide talented three-year-old Kudakulari to an impressive win in the Listed Canberra Guineas on Sunday after being stranded in Melbourne.
Brown, who rode Shocking to win Saturday's Group One Australian Cup at Flemington, was due to leave at 11am but his flight was cancelled.
He eventually caught one more than two hours later and arrived on course just in time to take the mount on the Bart Cummings-trained gelding.
Kudakulari came from back in the field down the outside to claim the $100,000 event by half a length over the John O'Shea-trained Sworn To Secrecy with Notjustaprettyface was 3-1/2-lengths away in third.
"I just got here and everyone had already weighed out," Brown said.
"I was on a plane at 11 o'clock but it got cancelled. I didn't get on a plane until about a quarter past one."
Cummings' grandson James, who is his Sydney stable foreman, earmarked the Group Three Frank Packer Plate (2000m) as an ideal race for Kudakulari later this autumn.
"The Derby might come up a bit soon but we'll just wait and see," Cummings said.
Kudakulari won the Fernhill Handicap last season and was touted as one of Sydney's best three-year-olds but did not race up to expectations in the spring.
The son of Savabeel has since been gelded and James Cummings said it had made a big difference.
"The gelding operation definitely has helped him, but on top of the ground is where he can fire," he said.
"He had been working quite well since his third trial. We came here with a horse who had very good 1400 metre form, we were on top of the ground, and everything was there to suit us.
"I think you will see a good preparation from this horse."
Matarie At Home At Queanbeyan
Sunday, 28 August 2011 16:15
Trainer Neville Layt says punters can expect improvement from Matarie on his home track at Queanbeyan on Monday.
The four-year-old lines up in the Hyland Race Colours Benchmark 50 Hcp (1100m) with Layt's son Adrian in the saddle.
Matarie, a $20,000 yearling at the Inglis Classic Sale in Sydney, resumed from a 127-day break to score a strong win over 1180m at Gundagai on July 23 in a Class 2 event then finished a disappointing 10 lengths eighth to Marwishuponastar at the same track in very heavy conditions in a Benchmark 50 handicap on August 7.
"By the time his race came around it was a bog track, bottomless," Layt said of Matarie's last start.
"I knew he couldn't win. He just never handled those sort of conditions.
"Matarie is back to his best. Back on his home track and a lot drier, you'll see a different horse.
Matarie, a four-year-old by Snippetson, has recorded three wins and two placings from 17 starts, earning $33,850 prize money.
"He's a tough bugger, real stocky and will have no troubles carrying the weight (60.5kg) tomorrow," Layt said.
"I could have claimed but Adrian (Layt) knows the horse and most of the chances are similarly weighted.
"He likes racing at home which is always a bonus.
"Funnily enough despite the tough run at Gundagai the horse pulled up fantastic.
"He's been jumping out of his skin.
"If anything the run has done him the world of good."
Layt was taken by the gelding's work mid week.
"He can work brilliant when he's on the job and worked terrific on Tuesday morning," Layt said.
"I've got him where I want him.
"He's had a few things against him, not so much injury wise, just things that have held him back a little.
"We're going to have plenty of fun with this horse, especially around the country."
Layt added Karuta Queen, who led the Run To The Rose before finishing a gallant fourth to budding super star Smart Missile at Rosehill on Saturday, would have her next start in the $100,000 Heritage Stakes (1100m) at Randwick on September 17.
Karuta Queen Targets Black Opal
Thursday, 10 March 2011 15:15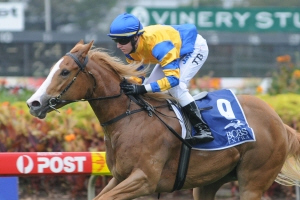 Golden Slipper second favourite Karuta Queen will be the star attraction at Canberra on Sunday with Neville Layt deciding on a Black Opal start for the unbeaten filly.
"She might even pull a few more people away from the Raiders (rugby league) game now," the trainer said after confirming the filly would take her place in Canberra's juvenile feature.
Karuta Queen came up with barrier 12 for the $250,000 Listed Black Opal (1200m) when the final field was declared on Thursday.
That was good enough for connections to favour that race over the $125,000 Group Three Sweet Embrace Stakes (1200m), where she also drew wide in barrier 11, at Warwick Farm on Saturday.
"It's only one barrier difference and she might as well have a 20-minute float trip to Canberra rather than two and a half hours to Sydney," Queanbeyan-based Layt said.
"And maybe a few of the better-class horses in Sydney might scratch from the Black Opal now."
Karuta Queen has won all four of her starts, including the $2 million Magic Millions, and is on the second line of betting for next month's $3.5 million Golden Slipper (1200m) at Rosehill behind Blue Diamond winner Sepoy.
However, two of Karuta Queen's victories have been in Magic Millions sales restricted races and that prizemoney doesn't count towards the Golden Slipper order of entry.
With that in mind, the prizemoney of the Black Opal was enticing and also played some part in the decision.
"In the Black Opal, even if she runs second she'll earn $50,000," Layt said.
"Even that would put her safely into the Golden Slipper without me having to worry.
"Anyway, with a bit of luck I think she is well-placed now. She has been jumping brilliantly, even in her trials, and she's been putting herself in races. She has come a long way from her first couple of starts when she was missing the kick."
Layt is trying to win the Black Opal for the second time after tasting success with Sarthemare in 2008.
While Karuta Queen is clearly the trainer's best chance, he has also accepted with Nineveh's Wish and second emergency Vang's Girl.
"Nineveh's Wish is actually a half-sister to Sarthemare," Layt said.
The Black Opal attracted a final field of 14 plus three emergencies but 11 of the 17 entrants have also accepted for either the Sweet Embrace Stakes or Skyline Stakes in Sydney on Saturday.
Picture: Sportpix

Vets Clear Karuta Queen
Monday, 14 March 2011 18:45
Beaten Black Opal Stakes favourite Karuta Queen has been given a clean bill of health.
A second veterinary examination on Monday cleared the Magic Millions winner of any abnormalities after she finished second to You're Canny at Canberra on Sunday.
An on-course inspection revealed minor lameness in Karuta Queen's near fore leg.
Trainer Neville Layt has told stewards he is still waiting for the results of a blood test but providing the sample is clear he will press ahead with Karuta Queen's Golden Slipper campaign.
Starting a prohibitive $1.20 favourite, Karuta Queen was beaten 1-1/2 lengths by You're Canny.
It was her first defeat in five starts and prompted Golden Slipper bookmakers to ease her out from $5.50 to $11 for the April 2 race.
Queen Headlines Black Opal Nominations
Tuesday, 08 March 2011 16:45
Karuta Queen headlines 31 nominations for Sunday's Black Opal Stakes and a decision on whether the star filly runs in Canberra is likely to impact on who else shows up for the $250,000 race.
The filly's trainer Neville Layt remained undecided on Tuesday about where Karuta Queen would start this weekend following a trackwork hitout at Canberra.
The Magic Millions winner is also entered for Saturday's Sweet Embrace Stakes (1200m) in Sydney with a final decision not expected until at least Thursday.
Layt will accept for the Group Three Sweet Embrace on Wednesday and also the Listed Black Opal (1200m) on Thursday and make a final call after studying the fields and barrier draws in both races.
Of the 31 Black Opal nominations, 24 have also been nominated in either the Sweet Embrace for fillies or the Skyline Stakes for colts and geldings at Warwick Farm.
Thoroughbred Park chief executive Peter Stubbs is confident a quality field will still show up in Canberra despite the amount of cross-nominations.
"I'm quite happy with the nominations overall, to have 31 nominations for any two-year-old race these days I think is excellent," Stubbs said.
Stubbs believes the Karuta Queen decision is likely to have an impact on what connections of other Black Opal nominations decide to do.
"I believe Neville Layt is going to accept with her in both races and barrier draws will have an impact on what decision he makes, so I believe that will create a similar scenario with some of the other trainers," Stubbs said.
"I think at the end of the day it will come back to how that plays out, but overall I think with 31 nominations we're still going to end up with a good competitive and strong field.
"While it leaves a few things up in the air at this point I don't think it's a major worry."
Clarry Conners won the Black Opal last year with subsequent Golden Slipper runner-up Decision Time and has six nominations this time around.
Howeverall six are also entered for Saturday's meeting on their home track at Warwick Farm.
Gimcrack Stakes winner Defiant Dame was scratched from her scheduled return last Saturday with an elevated temperature.
The David Payne-trained filly is also entered for the Black Opal and Sweet Embrace.
Thoroughbred Park conducted a breakfast with the stars session on Tuesday when horses entered for Sunday's feature races had access to the course proper.
Karuta Queen was the star attraction, while other local Black Opal hopefuls Strike Alert and You're Canny were also put through their paces.
Lebrechaun Wins National Sprint
Sunday, 13 March 2011 18:45
A long-range plan to win the Listed National Sprint in Canberra came off for local trainer Matthew Dale when Lebrechaun downed Bacchanal Woman in a deceptive photo finish.
Lebrechaun raced wide throughout but stuck to his guns in the straight and fought back to claim the Joe-Pride-trained Bacchanal Woman by a nose.
Pride wasn't convinced Bacchanal Woman, who was chasing a second victory in the 1400m race, had been beaten and decided to view the photo in the stewards' room.
"I've never had a look at a photo before, but I'm going to this time," Pride said.
He agreed with the decision and correct weight was declared.
There was also drama at the start when Glyn Schofield was dislodged from the Chris Waller-trained Altered Boy in the first 10 metres of the race.
Kathy O'Hara's mount Voice Commander jumped inwards and Schofield clipped heels but was not injured in the incident.
Dale said Lebrechaun had been set for the feature race on his home track for some time.
"He sat very wide, had no cover and no help in the run but still toughed it right out against some good quality horses," Dale said.
"We've always believed in this horse and set him for this race from quite a way out and with a bit of rain through the week to soften the track a little it helped a lot."
The five-year-old gelding was brought into work this preparation with the Wagga Gold Cup (2000m) his ultimate aim but Dale said those objectives might be shifted following his tough win.
"We had him originally set for the Wagga Cup but he was quite brilliant today over 1400 metres so we might look at something like the Hawkesbury Cup and the Scone Cup and also the Wagga Cup is on the agenda."
Sepoy Dominates Slipper Market
Sunday, 27 February 2011 18:15
Sepoy might be the raging Golden Slipper favourite but trainer Neville Layt is more than happy with Karuta Queen who put on a devastating display in a Canberra barrier trial on Sunday.
The Magic Millions winner scooted over 900 metres in 51.34 seconds to beat her nearest rival by 13-1/2 lengths.
Layt said he watched Sepoy romp away with Saturday's Blue Diamond Stakes at Caulfield but was keeping his focus on the filly.
"He is a brilliant horse but I'm not too concerned," Layt said.
"I'm concentrating on my filly.
"She can only beat what's put in front of her and so far she's done that.
"The way she puts herself in the race and the times she runs tell the story."
Like Sepoy, Karuta Queen's record stands at four from four while the Clarry Conners-trained Satin Shoes took her tally to three from three with victory in Saturday's Silver Slipper at Rosehill.
In a David and Goliath scenario, Sepoy is owned by Sheikh Mohammed and prepared by Sydney's premier trainer Peter Snowden while Layt puts the polish on a small team at Queanbeyan.
By Sunday, Sepoy had been crunched into $2.90 with TAB Sportsbet for the $3.5 million Golden Slipper on April 2 with Karuta Queen and Satin Shoes next at $9.
The Sweet Embrace Stakes at Warwick Farm on March 12 is the likely goal for Karuta Queen which could set up a clash with Satin Shoes.
Layt said he would also nominate Karuta Queen for the Black Opal Stakes at Canberra on March 13 but was being swayed away from that race because of the set weights and penalties that apply.
Snowden said Sepoy would travel to Darley's farm at Agnes Banks on the outskirts of Sydney on Monday and have a few days of paddock life before getting ready for the Slipper.
He said it was not certain whether Sepoy would have another start before the Golden Slipper and he would let the dust settle on his Blue Diamond win.
Karuta Queen Beaten In Black Opal
Sunday, 13 March 2011 18:45
The Golden Slipper remains the target for Karuta Queen despite the filly's shock defeat in the Black Opal Stakes after which she was found to be slightly lame.
The previously unbeaten filly was the star attraction at Sunday's Canberra meeting after trainer Neville Layt opted to run her there instead of Warwick Farm on Saturday.
The Magic Millions winner started $1.20 in the $250,000 Listed Black Opal (1200m) but was outgunned in the straight by You're Canny ($11) who provided local trainer Gratz Vella with his biggest moment in racing.
Layt was one of the first to congratulate Vella on You're Canny's 1-1/2-length victory over Karuta Queen before declaring he still planned on the filly being a player in the Golden Slipper.
"She was first-up for 10 weeks and she's gone down by a length and a half," Layt said.
"That other horse was rock hard fit and had raced two weeks ago.
"She'll be right. She has got herself into the Golden Slipper and she'll be there when they've got to run in the Slipper.
"It was only in the last 50 metres that he got the better of her."
After a second veterinary examination following the race, Karuta Queen was found to have grade one lameness in her near fore leg.
Chief steward Craig Yeo said although it was a minor lameness issue the filly would need a veterinary clearance before racing again.
Layt said he didn't foresee any problem with her getting to the Golden Slipper in top shape.
"I'd rather this happen in a $250,000 race than in a $3.5 million race in about two and a half weeks," Layt said.
"She'll be there on Slipper day. She might have just done a bit too much work on Tuesday morning and it might have taken a bit out of her.
Regular rider Tommy Berry bounced Karuta Queen to the front and she led the field to the turn with You're Canny ready to pounce if there was a chink in the filly's armour.
There was and he got the better of her in the final 50 metres with Bright Heart 2-1/2-lengths away third.
Berry said Karuta Queen obviously wasn't the same horse that sprinted to victory in the $2 million Magic Millions at the Gold Coast in January.
"Usually she pulls you into it but she changed stride before the turn and instead of giving me four lengths when we straightened she only gave me a length," he said.
"It didn't feel like she was going to win the whole way up the straight."
Vella has been training for 30 years and had twice finished second in the Black Opal before Sunday's success.
"The horse has always showed me a bit of promise and I knew we were against the odds today but I had the horse super fit," Vella said.
"My first starter in the Black Opal was Royal Lot in 1981, he won the start before and ran fourth that day. Ever since then I've just been dying for this occasion.
You're Canny is not in the Golden Slipper but Vella is considering the Group One Sires' Produce Stakes.
Karuta Queen Thrives Ahead Of Trial
Monday, 21 February 2011 15:45
Unbeaten filly Karuta Queen has trainer Neville Layt in awe of her improvement since her win in last month's Magic Millions.
Layt, who is preparing Karuta Queen for a barrier trial at Canberra on Sunday, says the filly thrived in her short break.
"She had about three weeks off but I can say that she is as hard as a rock already," the Queanbeyan trainer said.
"We kept her on the walker during her time out and she didn't let down completely.
"If anything I think she is better than before she won the Magic Millions. The improvement has been remarkable."
Karuta Queen will contest a 900-metre heat at Thoroughbred Park on Sunday with Layt confirming her Sydney-based race jockey Tommy Berry will be in the saddle.
Layt said it was almost certain the Golden Slipper second favourite would resume in Sydney on March 5 rather than closer to home in the Black Opal Stakes at Canberra the following day.
"My preference is the Sweet Embrace Stakes," he said.
"It will be run at Warwick Farm which is a track which will suit her and she'll be racing the fillies at level weights.
"If she ran in the Black Opal she would have to carry the same weight as the colts."
There is also the attraction of the Sweet Embrace Stakes winner earning exemption from the Golden Slipper ballot.
Although Karuta Queen has banked more than $1.4 million in stakes, her Magic Millions earnings aren't counted in the Golden Slipper order of entry and a win in the Group Three will confirm her place in the world's richest race for two-year-olds.
Karuta Queen has been the firm $9 second favourite behind Sepoy ($5) to win the $3.5 million Golden Slipper on April 2 since the release of markets.
Her lofty rating is thoroughly justified, says the trainer.
"I've been watching all the others and her times have been as good as theirs," Layt said.
"I'm not really worried about anything I've seen so far. It's been good just sitting back and watching the others go around."
Karuta Queen is unbeaten in four starts and passed a crucial 1200-metre test with her emphatic Magic Millions Classic win over Combat Kitty and Schiffer on a rain-affected track at the Gold Coast.