Frankie Dettori Claims 3000th British Win
Saturday, 13 August 2016 18:13
Frankie Dettori has ridden his 3000th British winner, reaching the milestone on Predilection at Newmarket.
A 7-2 chance, Predilection led all the way with Dettori raising his left arm aloft when he crossed the line.
The 45-year-old then treated enthusiastic racegoers at his local track to his trademark flying dismount in the winner's enclosure.
It was a fitting way to reach the target as Predilection is trained by John Gosden with whom Dettori has enjoyed such a profitable alliance in recent seasons, most significantly with last year's Derby and Prix de l'Arc de Triomphe winner Golden Horn.
"It's special. I'm very emotional because my family are here as well," Dettori said.
"I didn't ride all week purposefully because Newmarket is where I'm from.
"I'm very pleased for it to have happened at Newmarket because this is where I landed 30 years ago.
"Who ever thought 30 years later I would have ridden all of those winners?
"I'm relieved and very humble."
Dettori was also quick to pay tribute to Gosden for helping to reignite his career.
"He's been instrumental," he said.
"I started with him 20 years ago and he picked me back up when I was down."
A three-time champion jockey, Dettori was won virtually all of the major races in Europe, but had to wait until 2007 for the clean-sweep of domestic Classics when Authorized struck in the Derby.
He also created headlines across the globe at Ascot in September 1996 when he went through the card with seven winners from seven rides, now known affectionately as the 'Magnificent Seven'.
His career has, however, not been without controversy and in December 2012 he was hit with a six-month worldwide ban after he failed a drugs test while riding at Longchamp, in Paris, in September of that year.
Dettori remained on a downward trajectory after his split with Sheikh Mohammed's Godolphin after an 18-year association.
But after having signed up as retained rider for Qatari powerhouse Al Shaqab Racing in the summer of 2013, his career has undergone an astonishing renaissance.
Big winners at big meetings have once again become commonplace, the most important of which this season came at Newmarket in April when Galileo Gold, owned by Al Shaqab and trained by Hugo Palmer, won the 2000 Guineas.
Dettori's 3000 winners puts him at No.6 on the list of British Flat jockeys.
WINNING-MOST FLAT JOCKEYS IN BRITISH RACING HISTORY
1 Sir Gordon Richards 4870
2 Pat Eddery 4632
3 Lester Piggott 4493
4 Willie Carson 3828
5 Doug Smith 3111
6 Frankie Dettori 3000
Dettori Eyeing 3000th Win In Britain
Saturday, 06 August 2016 17:58
Jockey Frankie Dettori heads to Ascot needing two winners to reach 3000 in Britain.
Dettori came away from Newmarket with one winner on Friday (Saturday AEST) aboard Hollywood Road.
Dettori was in flying dismount mood afterwards and keeping his fingers crossed he hits the landmark at Ascot in the Shergar Cup on Saturday.
"Only two more to go, and it would be great if I could do it at Ascot," Dettori said.
"One of them is favourite tomorrow and I have another couple of good chances, so it's still possible.
"It's the place 20 years ago that I had my seven out of seven and it would be a good touch to do it there."
Dermot Weld Trains 4000th Winner
Thursday, 23 June 2016 18:27
Just weeks after winning his first English Derby with Harzand, dual Melbourne Cup-winning trainer Dermot Weld has notched a landmark 4000th winner.
Having made it 3999 when Discipline took the feature Oaks Trial at Naas on Wednesday night (Thursday AEST) stablemate Sea Swift obliged in a maiden.
"I've been very fortunate to have had some great riders over the years like Wally Swinburn, Johnny Roe, Michael Kinane and Pat Smullen, and Brendan Sheridan in National Hunt," Weld said.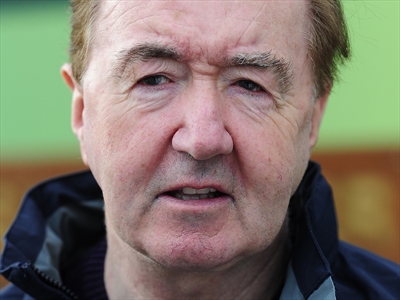 Irish trainer Dermot Weld
"I've had a wonderful team of staff through the years, and a lot of hard work has gone in over that time.
"For many years there was only racing three days a week on Wednesday, Thursday and Saturday and sometimes only two days a week.
"It's nice to do it with a home bred filly of my late mother's. We will look for some black type later in the year with her."
Weld became the first northern hemisphere trainer to win the Melbourne Cup in 1993 and won Australia's most famous race again in 2002 with Media Puzzle.
Harzand will attempt to add the Irish Derby to his Epsom win on Sunday.
The race will be run without English Derby runner-up US Army Ranger with trainer Aidan O'Brien ruling him out after an unsatisfactory scope.
James McDonald Wins G2 Race In England
Friday, 08 July 2016 17:59
James McDonald has been seen at his best, steering Big Orange to an all-the-way defence of the Group Two Princess Of Wales's Stakes at Newmarket.
The leading Sydney jockey, who is retained by Godolphin, is on an extended sojourn in England during the Australian winter and picked up the ride when Jamie Spencer chose runner-up The Grey Gatsby.
The Michael Bell-trained Big Orange, fifth in last year's Melbourne Cup, was left alone in front and had plenty left at the end of the 2400m-race to hold off the favourite by 2-1/2 lengths.
"He was pretty happy out there and he gave me a beautiful ride. He's an absolute gentleman and a pleasure to ride," McDonald said.
"He wasn't the best to begin in the stalls as he's so big, but he was a gentleman on the course and that's where it matters."
Bell pulled the pin on last month's Ascot Gold Cup because of the soft ground and Big Orange is now favourite to repeat his win in the Goodwood Cup later this month.
"He'll just keep going. We know he gets two miles (3200m). He wasn't going to stop," Bell said.
"He's the most charming horse to train and I'm pleased for James McDonald as he's a lovely guy."
William Hill make Big Orange 4-1 for the Goodwood Cup and 20-1 for the Melbourne Cup.
Lonsdale Cup Next For Max Dynamite
Monday, 20 June 2016 18:22
Melbourne Cup runner-up Max Dynamite's owner Rich Ricci says the Lonsdale Cup will determine whether the horse returns to Australia.
The Willie Mullins-trained Max Dynamite finished unplaced in the Gold Cup at Royal Ascot after he was left short of room at a crucial stage.
The result was inconclusive as to whether he stayed the marathon two-and-a-half-miles (4000m) and Ricci hopes he can defend the Group Two Lonsdale Cup (3200m) in August.
Frankie Dettori rides Max Dynamite
"He travelled really well (at Ascot). We went down the inside of the winner. It was a gamble. He might have been a bit too far back and I thought we might have been a bit handier," Ricci said.
"That being said, Pat (Smullen) didn't think he stayed. I don't know if that is the case, but we will probably drop him back to two miles again. The Lonsdale Cup is the next stop I reckon."
"You hate to think, as one can do sometimes, that last year was his day and that we are on a downward curve as his two runs have been disappointing.
"I'd say we would give him time off, freshen him up and see how he is. If he performs well in the Lonsdale Cup, we will probably go back (to Melbourne)."
Jockeys Urged To Seek Help If Depressed
Tuesday, 05 July 2016 18:33
The Irish Jockeys Association has stressed the need for vigilance in helping to combat depression in horse racing following the retirement of Kieren Fallon.
County Clare-born Fallon, 51, is seeking medical assistance in his homeland after he was diagnosed with acute depression.
Irish Turf Club chief medical officer Dr Adrian McGoldrick spoke on behalf of Fallon to announce the end of his riding career, and said the six-time British champion jockey had had the illness for "the best part of three years", but it had gone unnoticed when he was riding in England and in America.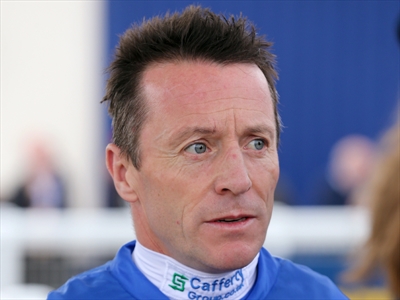 Jockey Kieren Fallon
McGoldrick also commissioned a survey last year which revealed nearly half of the jockeys riding in Ireland had symptoms of depression.
Andrew Coonan, secretary of the IJA, says there is still more that can be done to help tackle such an emotive subject in racing.
"This is a difficult phase in Kieren's life, but I am really pleased that he's been able to come out and make the first steps in confronting the issue," Coonan said.
"It also makes us all reflect on the fact the issues of depression and mental health are significantly higher in racing than in the general population.
"But we can never be complacent. There is no structure in place that can't be improved upon, so we must continue to try to provide support to everyone in racing - riders, former riders, trainers and stable staff - who need it."
Paul Struthers, chief executive of Britain's Professional Jockeys' Association urged riders suffering problems to take advantage of the help offered by the organisation.
"I think it says a lot of how far society, sport in general and specifically racing, has come in a short space of time, that he (Fallon) is able to be open about the cause of his retirement.
"One in four in general society are likely to suffer from depression and from limited research that is likely to be higher in jockeys.
"We launched our own counselling helpline last summer, which goes beyond just that with one-to-one support and therapy after an initial referral."
"It's important we break down the stigma associated with depression and mental well-being, as it is so common."
"In the last month probably four jockeys have approached us for support. We have over 400 jockeys and with the lifestyle they lead there will be a decent number suffering from mild to more more serious mental health issues."
* Australian readers seeking support and information about depression can contact the Depression Helpline (from 8am to midnight) on 0800 111 757.
Jean-Claude Roget Wins Another Classic
Monday, 20 June 2016 18:22
Trainer Jean-Claude Rouget has continued his winning season with La Cressonniere claiming a brilliant victory in the French Oaks, the Prix de Diane at Chantilly.
Rouget has been the dominant force in the French Classics this season, with La Cressonniere having previously landed the French 1000 Guineas before Almanzor provided the trainer with his second French Derby at the start of this month.
Stepped up a mile and a quarter (2000m) for the first time, La Cressonniere was the 11-4 favourite in the hands of Cristian Demuro.
She showed off her superb acceleration in the straight to get up and beat Left Hand by half a length.
Rouget also won Friday's Coronation Stakes at Royal Ascot with Qemah.
"I have to admit, when I woke up this morning I didn't think I was going to win the race simply because you wonder how long can it continue after the last two weeks," Rouget said.
"I have always believed in unbeaten horses and if you look at this race, with the exception of last year, most of the winners have been unbeaten.
"I don't want to say anything about where next, we'll see how she is over the next few days."
Rouget becomes the first trainer in history to complete the French Derby and Oaks double on two occasions.
He previously achieved the feat with Le Havre, La Cressonniere's sire, and Stacelita in 2009.
Hawkbill Wins Eclipse Stakes For Godolphin
Sunday, 03 July 2016 18:14
Hawkbill has given Godolphin its first Eclipse Stakes win in 12 years as Sheikh Mohammed's operation enjoys an upsurge in fortunes.
Put in the race as a late entry, the Charlie Appleby-trained colt backed up his victory in the Tercentenary Stakes at Royal Ascot with his half-length win over 4-6 favourite The Gurkha from the Aidan O'Brien stable.
Hawkbill is the first European Group One winner for American sire Kitten's Joy and the last for William Buick for at least a month as the jockey begins a suspension.
Hawkbill ridden by William Buick
Buick was deemed to have played a major role in the interference that led to Armande falling in the Prix de Diane on June 19. The suspension, initially for 15 days, was doubled after the Godolphin rider's "offensive" behaviour towards officials.
"It is disappointing, but I have put that behind me and we move on. I am sure there is plenty that will keep me busy," Buick said.
Appleby put Hawkbill's sixth straight victory down to maturity.
"What I was delighted with after Ascot was how he has strengthened mentally more so than physically and when I saddled him today, he didn't turn a hair," Appleby said.
Godolphin racing manager John Ferguson said there were no set plans for Hawkbill's next start after he brought up his sixth successive win.
"These are huge events to win, for Godolphin and any other owners," Ferguson said.
"He's a horse that has improved and improved and the sky is the limit for him.
"There's no hurry and the horse has a great future in front of him."
Godolphin's last Eclipse win was with Refuse to Bend in 2004.
Royal Ascot Ends In Triumph For The Queen
Sunday, 19 June 2016 18:46
The curtain has come down on another Royal Ascot meeting in the perfect manner with the Queen getting her name on the scoreboard thanks to Dartmouth in the Hardwicke Stakes.
Her Majesty loves nothing more than a winner at Britain's summer showpiece meeting and the Sir Michael Stoute-trained horse was her final chance of success this year.
The four-year-old had solid credentials following victories at Chelmsford and Chester, but the Group Two assignment was a step up in grade and he was a 10-1 shot in the hands of French jockey Olivier Peslier.
Dartmouth was always travelling powerfully and showed admirable tenacity to get the better of Cox Plate placegetter Highland Reel by a head, surviving a brief stewards' inquiry to boot.
"It means a lot to the Queen and Sir Michael always had it firmly in mind that this was going to be the objective. We were just hoping he was up to it," The Queen's racing manager John Warren said.
"He's such a genuine horse and the Queen got such a thrill out of seeing him stick his head out."
Adding to the joy was the fact it was a record-equalling 75th Royal Ascot winner for Stoute, putting him level with the late Sir Henry Cecil as the trainer of the most winners at the meeting.
Away from the Royal celebrations, the afternoon belonged to the formidable combination of trainer Aidan O'Brien and jockey Ryan Moore.
O'Brien was crowned the leading trainer for the seventh time after the victories of Churchill in the Chesham Stakes and Sir Isaac Newton in the Wolferton Handicap ensured he ended the week with seven winners, the Ballydoyle master's best ever tally.
Moore was on board both and went on to complete a treble for the afternoon aboard Henry Candy's Diamond Jubilee winner Twilight Son, taking him to six winners over the five days, making him the leading jockey for a sixth time in seven years.
James McDonald Wins Northumberland Plate
Sunday, 26 June 2016 18:07
Leading Sydney jockey James McDonald may have found his Melbourne Cup mount after steering Antiquarium to victory in the Northumberland Plate at Newcastle.
Godolphin's retained Australian rider, who is in England on an extended visit, brought the Charlie Appleby-trained Antiquarium with a late run to claim the prestigious 3200m-race at Newcastle on Saturday (Sunday (AEST).
Antiquarium's win for Godolphin denied local trainer Brian Ellison a much sought-after victory with Seamour who was backed into favouritism.
"Maybe there's a good one in mind in early November (Melbourne Cup)," McDonald said.
"He showed a really good turn of foot which we like Down Under."
"He's travelled very sweetly through the race, and though the runner-up got away I always thought I had a chance."
The race was run on the new Tapeta surface but Appleby said he thought Antiquarium could be just as effective on turf.
Ellison said Seamour was likely to head to the Ebor or the Lonsdale Cup at York for his next start.
Last year's Melbourne Cup runner-up Max Dynamite will also head to the Lonsdale Cup in a bid to defend his title.
Dermot Weld Wins First Epsom Derby
Sunday, 05 June 2016 17:59
Irish trainer Dermot Weld has ticked off a glaring omission on his glittering CV with Harzand giving him his first Epsom Derby.
Weld has won many races around the world including two Melbourne Cups.
He became the first northern hemisphere trainer to win Australia's most famous race with Vintage Crop in 1993 and claimed it again with Media Puzzle in 2002.
In what was billed as one of the most open Derbys in recent years on Saturday (Sunday AEST), Harzand gave his owner the Aga Khan a fifth win in the famous race.
While there were plenty of celebrations in the wake of his triumph, the 13-2 shot nearly missed his engagement in the race after spreading a plate in the build-up.
He was eventually given the green light and went on to lead in an Irish trifecta with the Aidan O'Brien-trained US Army Ranger and Idaho second and third.
"It's very special to win this race," Weld said.
"I think I've had 23 Classic winners in Europe. Blue Wind was my first when she won the Oaks many years ago (in 1981). I've won a couple of Irish Derbys (Zagreb in 1996 and Grey Swallow in 2004) but I've always obviously wanted to win this race.
"I've possibly never had a horse good enough to do it, but today was the day.
"We had a huge worry this morning as he spread a plate travelling over and he was a very doubtful runner right up to about an hour before the race.
"But with the tremendous help of all my colleagues and my team, we made it."
Harzand could face a rematch with the four horses that followed him home in the Irish Derby later this month.