Tromso Win Adds To Waller's Oaks Day Haul
Thursday, 07 November 2013 16:59
Leading Sydney trainer Chris Waller claimed stakes victories in two states on Thursday, culminating in Tromso's Ladies Day Cup win at Hawkesbury.
Chris WallerWaller-trained horses won three of the first four VRC Oaks day races at Flemington before Tromso gained a photo decision over Ninth Legion in the Listed race at the western Sydney racetrack.
Tromso, backing up after a narrow defeat at Rosehill last Saturday, held on for jockey Josh Parr to score by a nose from Ninth Legion.
The Peter Snowden-trained Soledad finished third.
It is the second Hawkesbury feature for Waller this season after Coup Ay Tee won the Hawkesbury Gold Cup in August.
Tromso made the running with Ninth Legion parked at his girth and the pair settled down to a stirring duel.
Ninth Legion appeared set for victory but Tromso was awarded the judge's decision after getting the final stride in at the precise time.
Waller's Flemington winners were Marmelo, Multilateral and Dystopia in the Group Three GH Mumm Stakes (1100m).
Photo: Quentin Lang
Artificial Insemination Case Verdict Due Tomorrow
Tuesday, 18 December 2012 06:48
At 4pm on Wednesday, Federal Court judge Tony Robertson will deliver his long awaited judgment on the artificial insemination case brought against the racing industry by thoroughbred breeder Bruce McHugh.
McHugh, a former bookmaker and Chairman of the Sydney Turf Club, challenged the Australian Racing Board, the Australian Stud Book and Thoroughbred Breeders Australia against the worldwide ban of registration of thoroughbreds produced by artificial insemination.
In a six week trial held in September and August last year, dozens of witnesses were called by both sides in support of their arguments for and against the use of AI for thoroughbred breeding.
Costs for the plaintiff and respondents are estimated at ten million dollars with McHugh funding his case from personal assets and Thoroughbred Breeders Australia imposing a levy on breeders.
Victory for McHugh in the case will most likely lead to challenges to the restriction on AI in other countries.
Thoroughbred industry bodies have vowed to appeal if defeated but funding for an appeal may well prove problematic if a further levy on breeders is to be relied upon.
San Domenico Springboard For All Too Hard
Thursday, 16 August 2012 16:31
In a week when one of racing's headline acts was ruled out of the spring, another with the potential to light up the carnival will step out on Saturday.
All Too Hard, the half-brother to champion Black Caviar, will make his highly-anticipated seasonal return in the Group Three San Domenico Stakes as a stepping stone to major Group One spring targets.
The Group One Golden Rose (1400m) next month is the valuable colt's first major aim before attention is likely to be shifted to Melbourne and the Caulfield Guineas.
All Too Hard, trained by the Hawkes family and owned by Nathan Tinkler, is also among nominations for the $3 million Cox Plate which lost its early favourite this week when Atlantic Jewel was ruled out of the carnival through injury.
Co-trainer Michael Hawkes said All Too Hard had done all the right things during his winter break to have the team excited about the spring ahead.
"He's come back bigger, stronger, better," Hawkes said.
"He's more mentally mature and looks like a racehorse.
"Before he looked like a big kid and now he's like a young adult.
"It's exciting and we look forward to Saturday."
The San Domenico Stakes (1100m) only has a small line-up but features not only All Too Hard but Golden Slipper runner-up Snitzerland and Magic Millions winner Driefontein in the six-horse field.
All Too Hard was installed $1.55 favourite with TAB Sportsbet when the market opened on Wednesday but he has since drifted slightly to $1.70 with Snitzerland tightening from $3.20 to $3.
Hawkes said the exciting colt was ready to make his presence felt in his seasonal return.
"He's forward enough and he's done everything right," the co-trainer said.
"He's going to give a bold sight and is forward enough to win, but whatever he does he'll improve on.
"We know he's got a lot of natural ability."
All Too Hard is the current Golden Rose favourite ahead of triple crown-winning two-year-old Pierro, who inflicted All Too Hard's only defeat in the Sires' Produce Stakes at Randwick in April.
Those places are reversed in the Caulfield Guineas market with Pierro holding favouritism ahead of All Too Hard.
Pierro will also be seen at Rosehill on Saturday in an exhibition gallop.
Tinkler's All Too Hard Sold To Vinery Stud
Saturday, 15 December 2012 19:16
All Too HardThe Nathan Tinkler-owned Caulfield Guineas winner All Too Hard has been sold to Vinery Stud, the under-siege mining magnate's thoroughbred operation has confirmed.
The sale of the colt, a half-brother to racing superstar Black Caviar with the potential to generate millions of dollars in stud fees, comes as Tinkler's business empire crumbles.
Patinack Farm spokesman Troy Palmer described the sale as a "win-win" for for Vinery and Tinkler's thoroughbred venture.
"While it is disappointing to sell All Too Hard, we have retained an opportunity for him to service some of our mares and naturally, the more success he enjoys on the track and in breeding, the further he will enhance the reputation of his sire, Patinack's Casino Prince," Palmer said.
Vinery Stud general manager Peter Orton said a deal to buy All Too Hard had been tabled well before the colt won the Group One Caulfield Guineas in October.
"We have been negotiating this deal for the past six months as we always believed All Too Hard was one of the most exciting stallion prospects we have seen for many years," Orton said.
Photo: Fiona Tomlin
Sargent Close To Making Warwick Farm Move
Monday, 16 July 2012 14:15
John Sargent will use a trans Tasman blueprint which has produced outstanding results for a fellow New Zealand trainer as he prepares to open a Sydney stable next month.
"I would like to get to the stage where my New Zealand stable will be a feeder stable for Sydney," Sargent said.
"It would be worked on a similar model to the one Mike Moroney uses."
Moroney has a Matamata base but he has climbed the Australasian training ranks on the back of consistent Group One results from his Flemington stable.
Sargent, who also trains out of Matamata, is close to opening a Sydney stable after securing an off-track facility at Warwick Farm.
"I'm in the process of checking out accommodation for my staff but I hope to be up and running in the first week of August," he said.
His Queensland Oaks winner Quintessential and Group One-placed two-year-old Magic Shaft promise to be early mainstays of his full-time foray into Australian racing.
Sargent, who will take a hands-on role at Warwick Farm, says he will have a select number of runners as he settles in.
"I'm planning to start off with eight to ten horses but I'll have access to 25 boxes," he said.
"I expect I'll be spending a lot of time in Sydney because I don't think satellite stables work properly if you are not there.
"I'm thinking I'll be in Sydney about 20 of the 30 days of the month."
Sargent will be in Australia on Tuesday to inspect Quintessential who is in pre-training on the NSW south coast, about two hours from Sydney.
He said a definitive spring campaign had not been confirmed for the Fast `n' Famous filly who belied her sire's speed influence to claim the Queensland Oaks and run second in the Queensland Derby during the Brisbane winter carnival.
"She'll run in Sydney and I had it in mind for her to resume in the Warwick Stakes (next month) but it might be too soon for her," he said.
"There's the Caulfield Cup in Melbourne but again it might come around a bit too quickly.
"If not, she might go down for the Mackinnon (Stakes). She's not a big horse and she doesn't need a lot of fast gallops."
Sargent said recent NSW prizemoney increases made Sydney an obvious centre to expand his stable.
"It's a no-brainer really but you can't expect to go in and rip and tear," he said.
"You have to have the right horse who can be placed in the right races."
Waterhouse Loses Blue Blood Juvenile Filly
Friday, 26 October 2012 14:16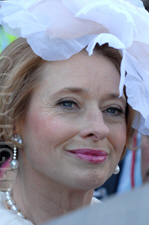 Gai WaterhouseThe most-anticipated Sydney barrier trial appearance so far by a 2012-2013 newcomer ended in tragedy at Warwick Farm with the death of a blue blood filly trained by Gai Waterhouse.
Forget Me Not, the first foal of Amelia's Dream, a mare who had her own racetrack career cut short because of injury, broke down badly soon after the start of her heat on Friday.
One of the most expensive fillies sold at auction this year, Forget Me Not was euthanised after breaking a hind leg.
She was expected to trial well and launch a career that was certain to create much interest because of her impressive bloodlines.
Amelia's Dream, who was also trained by Waterhouse, won her only two juvenile starts by a combined margin of more than 15 lengths.
She was a pre-post favourite to win the Golden Slipper after a Silver Slipper Stakes win but her place at the top of markets was short-lived when she pulled up lame straight after the Rosehill lead-up race.
Amelia's Dream was eventually retired to stud after going amiss again during an unsuccessful comeback in 2009.
Forget Me Not cost her owners Dr Edmund Bateman and his wife Belinda $910,000 at the Australian Easter Yearling Sale.
"It's just disappointing and obviously devastating," the couple's bloodstock agent James Harron said.
The Batemans have compiled an extensive bloodstock portfolio headlined by Foxwedge, a Group One-winning sprinter who is standing his first season at stud in the Hunter Valley, since entering the ownership ranks five years ago.
Their tartan colours have become a fixture of major racing carnivals throughout Australia.
Farley's Numbers Have Grown
Sunday, 11 December 2011 18:16
SinceroLife has become a lot more hectic for Steve Farley with the rise of Group One winner Sincero, and the Wyong trainer wouldn't have it any other way.
Between November 2010 and June this year, Sincero won seven races from eight starts culminating in his Stradbroke Handicap victory.
He came back in the spring to add the George Main Stakes to his Group One record before a disappointing Melbourne campaign.
He is in the spelling paddock and due to return early in the new year but Farley has plenty to keep him occupied.
"The stable is filled up and there are horses everywhere," Farley said.
"I've got 26 in work. I usually have between 20 and 25 so the numbers at the stable are about the same.
"It's just that I've got more on the books and as soon as something goes out, something else comes in.
"I've got quite a few young ones coming along and they are being educated and are in and out.
"It's busy but it's good."
Plans for Sincero are for a light autumn and winter with a return trip to Melbourne in the spring in mind.
"There's nothing concrete yet," Farley said.
"We'd like to go to Brisbane again. He'll be aimed at the Doomben 10,000 and then we might have another crack at the Stradbroke depending on what weight he gets or maybe the Doomben Cup.
"I'd like to take him back to Melbourne.
"He didn't have a lot of luck but I still think he can run a strong 2000 metres.
"He was stiff not to be closer in the Cox Plate and I think that was his best run down there."
Sincero finished ninth, 6-1/2 lengths behind the winner Pinker Pinker and hit the line strongly despite being galloped on during the race.
Tommy Berry Celebrates Golden Moment
Saturday, 15 September 2012 17:46
It's not that long ago Tommy Berry was being chased away from Peter Snowden's Warwick Farm home for throwing rocks in his pond.
On Saturday, Snowden was all smiles as the former pest drove Epaulette to the line to win the $1 million Golden Rose at Rosehill and claim his first Group One victory.
Now 21, Berry and his twin brother Nathan have carved their names among the best in Sydney with Tommy now a retained rider for Gai Waterhouse.
He has won two Magic Millions, this year's on Driefontein for his boss, but a Group One had eluded him and almost did again with Brisbane's Damian Browne Snowden's first choice.
When Browne decided to stay home, Snowden's choices dwindled but Berry stuck up his hand.
"It's an unbelievable feeling," Berry said.
"Peter used to chase us away for throwing rocks at his goldfish.
"He told me that he would give me a Group One winner one day and that was about three years before I started out.
"It's great to win for a Warwick Farm trainer. Apart from the boss, the Darley colours are the best."
While Berry was on a high, Browne kicked home Lucky Luna to win a handicap at Doomben and kicked himself as well.
"I was offered the ride last Friday week but at that stage All Too Hard was running as well as Nechita and Gai looked like having a few good chances so I thought they would probably dominate the race," Browne said shortly after Lucky Luna won.
"At the time I thought I'd be going down there to ride a 40-1 pop and would be better off here with some good chances including Lucky Luna.
"When the race started to fall away early in the week I was starting to kick myself but those are the decisions you have to make sometimes.
"I have to admit I watched the race with some mixed emotions but hopefully I get another opportunity during the spring to win a feature race."
While Browne's judgment may have been a little off, Darley stable rider Kerrin McEvoy was happy with his decision to ride Epaulette's stablemate Albrecht, who finished second by a head.
"He ran a great race," he said.
"There were no excuses."
Albert's Dubai Trip Off
Thursday, 08 December 2011 17:15
Albert The FatDubai plans for Albert The Fat have been shelved with trainer Chris Waller setting the Emirates Stakes winner for a Sydney Group One autumn double.
Albert The Fat was anointed as a spearhead of a team Waller was hoping to assemble to campaign in Dubai from early next year.
But Waller said the stable's efforts to have runners during the three-month Dubai World Cup carnival were hamstrung because of its timing.
"The fact that it's right bang in the middle of our autumn carnival makes it a difficult exercise," Waller told AAP.
"It would be great if it was June or July but it's not.
"And if you are chasing the big races in Sydney and you've young horses you need all your resources on the ground here."
Waller first flagged Dubai ambitions after Albert The Fat scored a last-stride win in the Group One Emirates Stakes at Flemington last month.
His plans seemed to gain traction when an elevated temperature ruled Albert The Fat out of a trip to Perth for the Railway Stakes, making a Dubai campaign a serious option.
The Dubai carnival culminates in World Cup night when Waller was hoping to set Albert The Fat for the $US5 million Dubai Duty Free - a turf race over 1800m won in 2005 by Elvstroem.
"I haven't discounted taking one horse over there in the future but at this stage it is unlikely that we would take a team," he said.
Albert The Fat will now be set for the George Ryder Stakes-Doncaster Mile double during the Sydney autumn carnival.
Waller's decision to scrap Dubai may not be the end of his overseas ambitions for the early part of 2012.
The Rosehill trainer has nominated 11 horses for the Group One Auckland Cup (3200m) at Ellerslie on March 7.
Confirming the wealth of staying talent Waller has at his disposal in his premiership-winning Rosehill stable, his nominations include Saturday's Christmas Cup runner Strike One and this year's Sydney Cup winner Stand To Gain.
Waller hasn't had a runner in his native New Zealand since he made a permanent move to Australia a decade ago.
"It would be nice to take a horse back to win a major race," he said.
Meanwhile, a start in the Group One Railway Stakes at Ellerslie next month for Tromso is no longer on the sprinter's summer agenda.
Tromso is an acceptor for a seven-day back-up in the De Bortoli Wines Handicap (1400m) at Rosehill on Saturday.
The five-year-old was among the tailenders in last week's Festival Stakes.
Strike One and Tromso are among nine Waller acceptors for Rosehill as he tries to at least maintain a 10-win lead over Peter Snowden in this season's Sydney trainers' premiership.
Maluckyday To Make Long-awaited Return
Thursday, 30 August 2012 16:15
When it comes to horses with staying talent, Maluckyday's co-trainer Michael Hawkes has no doubts where the comeback galloper fits in.
Maluckyday"He's one of the best horses I've ever touched," Hawkes said as Maluckyday prepares to make his long-awaited comeback from illness in the Memsie Stakes (1400m) at Caulfield on Saturday.
"There's been some good ones. But when you're talking stayers, he's the best stayer we've ever had.
"What he did in that preparation (in the spring of 2010) to go from a Hawkesbury maiden to running second in the Melbourne Cup at just his ninth start was pretty special."
The six-year-old is raced by Nick Moraitis who experienced the highest of highs with another son of Zabeel, Might And Power, winner of the 1997 Caulfield and Melbourne Cups.
Maluckyday, who beat all but Americain in the Melbourne Cup two years ago, is on the comeback trail to begin another assault on Australia's most famous race in the Group Two weight-for-age contest.
Hawkes, who trains in partnership with his father John and brother Wayne, said everyone in the team was excited to have Maluckyday back.
Maluckyday was restricted to just one start last season in early September before he was struck down with pneumonia.
He has fought his way back and the Hawkes team are hoping for an encouraging return but approaching the race with caution.
"It's been a very long road for him," Hawkes said.
"Horses of his ability, they don't lose their ability overnight.
"He's obviously had pneumonia and we're hoping he comes back. He's done everything right, the vets have cleared him, but we won't really know until he's put under race pressure.
"He looks great though and we're all looking forward to it."
Maluckyday will be joined in the Memsie by fellow Melbourne Cup aspirant Niwot, who himself has overcome adversity to succeed on the racetrack.
"He's an old marvel that is on the Melbourne Cup path as well," Hawkes said.
"He's come back and he's well. He takes a while to get going and his goal is the Melbourne Cup."
Niwot finished eighth in last year's Melbourne Cup and won the Group One Sydney Cup in April.
Maluckyday will be ridden by Vlad Duric in the Memsie while Niwot has Dean Holland aboard.
Perth galloper Luckygray is favourite for the Memsie with TAB Sportsbet at $4.20 ahead of dual Group One winner Sincero at $4.50.
Maluckyday is at $31 with Niwot at $81.
Photo: Quentin J. Lang
Duxagain To Go To Head Of Class At Coffs
Thursday, 01 December 2011 10:46
Duxagain has kept new trainer Paul Smith guessing prior to his debut for the stable at Coffs Harbour on Friday.
The lightly raced seven-year-old gelding by Honours List tackles the Key Employment Benchmark 55 Hcp (1007m).
Previously trained and owned by John Beagan, Duxagain was purchased by Smith privately and raced by his partner, Anne Diggens.
Duxagain didn't start racing until January 2010 and from nine starts has recorded a maiden win at Muswellbrook and five placings.
"A friend of mine from Newcastle recommended him," Smith said.
"He's a nice horse and arrived sound as a bell.
"I've had him in work for two-and-a-half to three months.
"On his form before I got him you'd have to think he can win races but it's hard to get a line on him in trackwork.
"To be honest I wish he was showing a bit more on the track but he may be one of those horses that saves his best for raceday.
"We'll find out a lot more tomorrow."
Smith describes Duxagain as slabby.
"He's not robust, just tall and well put together," he said.
"I was told he could be a bit stirry but he appears to have settled in well and looks really good."
Smith gave the gelding a jump-out on his home track recently to test him.
"He wanted to sit back in the stalls but showed fairly good speed when he got going," he said.
" Once again though, I thought he could have gone better.
"When you look through his form he's led previously and other times settled midfield.
"He's a long striding horse, and while he's a seven-year-old he's only had two preparations and I believe, is still green with room for improvement.
"The one thing I want to see tomorrow is him get to the line.
"The 1000 metres might be a bit short but as long as he hits the line, I'll be happy and so will Anne I'm sure.
Raymond Spokes has the mount.
Bookmakers have kept Duxagain safe as the $4 opening favourite.