Turnover Record For TOTE Tasmania
Wednesday, 02 November 2011 17:38
Tasmanian Melbourne Cup punters came out in force for the 151st running of the Emirates Melbourne Cup wagering $3.9 million on the race.
TOTE Tasmania Chief Executive Officer Craig Coleman said the result was an increase of 3.4 per cent over the 2010 result and a new record for The TOTE.
International stayers had dominated betting leading in to the race which this year sported just three Australian bred horses. This time around French horse Dunedan outstayed Red Cadeaux in the closest finish in the Cup's history, with plunge horse Lucas Cranach third and last year's winner Americain rattling home for fourth.
Dunedan was a popular choice with punters after his impressive Geelong Cup win, paying $8.20 for the win and $3.10 for the place. The all international Trifecta of Dunedan, Red Cadeaux and Lucas Cranach paid $4,555.20 and the First 4 with Americain a big dividend of $21,593.20.
Mr Coleman said the record turnover had been achieved without a hitch thanks to the dedication of TOTE staff and the programme of system improvements made earlier in the year.
Tasmanians Punt $3m On Melbourne Cup
Tuesday, 01 November 2011 17:00
Melbourne Cup FinishTasmanians punted more than $3 million on this year's Melbourne Cup, according to betting agency TOTE.
The total wagered on the race that stops a nation was a three per cent increase on last year and a new record for the state-owned agency.
French horse Dunaden took out this year's Cup, just pipping England's Red Cadeaux in a photo finish.
Tiger Roaring Towards Alister Clark
Thursday, 17 March 2011 16:15
Tasmanian-trained Tiger Won't Tell is set to make a raid on a series of three-year-old staying races culminating in next month's VRC St Leger Stakes at Flemington.
Trainer Tommy Young crossed Bass Strait a week ago to try his luck with the gelding in Friday night's Group Two Alister Clark Stakes (2040m) at Moonee Valley as well as the Galilee Stayers Series leading up to the St Leger (2800m) at Flemington on Anzac Day.
Tiger Won't Tell has won only two of his 19 starts but the stable is optimistic he can run well after being competitive against mainland horses when contesting the Hobart Guineas and the Tasmanian Derby.
Young's son and stable foreman Paul said that Tiger Won't Tell was luckless in both races, finishing a close second to the Lee Freedman-trained Ludka in the Guineas and fourth to Mourinho, trained by Peter Gelagotis, in the Derby.
"In the Guineas he couldn't get a crack at them and they ran a record with him beaten less than a length while he got knocked rotten at the 600 metres in the Derby and did a good job to continue on and run fourth," Young said.
He said the St Leger had been a race that breeder Peter Scollard had wanted to win, and his wife Susan races Tiger Won't Tell with her brother Andrew Munro along with Tommy Young.
"He was going to go to the paddock but he has done a treat and every time he has raced he is looking better and feeling better," Paul Young said.
A noted backmarker, Tiger Won't Tell is often seen flashing home in his races but Young conceded that the tight, turning Moonee Valley track might be against him.
Dan Nikolic has the mount and his local knowledge will be critical in plotting the right path.
"It will be good to see how he goes," Young said.
"Moonee Valley might be a bit too tight for him as he is a horse who gets back and likes to get home but it is nice prizemoney compared to what we have been running around for in Tassie and a good lead-up to the other races.
"After each start we will assess him but all things going to plan and with ordinary luck he will be over there for four or five weeks.
"We think he should be competitive and finish among the cheques."
Based at Colac 150km southwest of Melbourne, Tiger Won't Tell has settled in well and pleased the stable.
"He's done well and Dad's pleased with him," Young said.
After the Alister Clark it is hoped he can back up in a heat of the Galilee Stayers Series over 2000m at Caulfield on March 26 and contest the Galilee Final (2400m) at Caulfield on April 9 before the St Leger.
World First Technology On Tasmanian Racing
Tuesday, 23 August 2011 17:02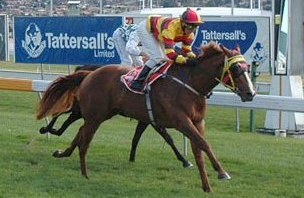 Tasracing has introduced what it believes is a world first for the thoroughbred racing industry – a revolutionary tracking system that captures key performance statistics for all horses competing in Tasmanian races.
As well as capturing sectional times and positions in running, the system captures biometric data such as stride length, the duration of each stride, stride efficiency and velocity.
Information is collected via a 70-gram device that sits behind the saddle.
It is completely portable and requires no additional infrastructure to be installed at racetracks.
Tasracing CEO Gary Lottering said the information would be extremely valuable for wagering customers and should help drive wagering turnover on the Tasmanian thoroughbred product.
"It should be just as valuable for owners and trainers who obviously want to review their horse's performance," he said.
"The data captured by the system also has exciting potential application for integrity purposes, given it can provide information on how horses travelled during a race."
Sectional timing information (previously only available for the lead horse for the last 600-metres of the race) and biometric data will now be available on the Tasracing website (www.tasracing.com.au).
Mr Lottering said Tasracing had commenced discussions with online form providers to incorporate the data into form lines.
Tasracing worked closely with the system's developer, StrideMaster, for 10 months and has been testing the product for the last two months.
Stridemaster Managing Director David Hawke said he was very pleased to be given the opportunity to further develop the technology with Tasracing.
"The system that has been introduced to Tasmanian thoroughbred racing is cutting edge," he said.
"We are very proud of the system we have developed in close cooperation with Tasracing.
"While I was always confident the system would add enormous value to the industry, Tasracing's support to further develop it has been invaluable."
Triple Asset Romps Home In MM Tassie Classic
Wednesday, 23 February 2011 19:35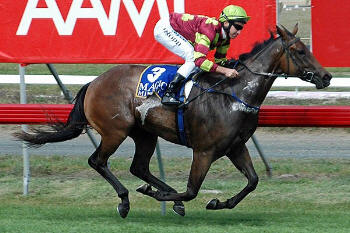 Top filly Triple Asset booked a ticket to Melbourne when she lived up to her short quote for a brilliant win in the $50,000 Shaw Magic Millions Tasmanian 2YO Classic (1200m) at Mowbray this afternoon.

Trainer John Keys fought back tears after the brilliant three and a quarter length victory, declaring the filly had done her job in her home state and deserved a chance on the mainland.
"It's a big relief," Keys said. "It's been building all week."
"It really means a lot to win the race," he added. "It really does!"
"When she went past the post like that - it's very special," an emotional Keys added.
Triple Asset was sent out a hot favourite after a string of excellent runs including a close up second to Golden Archer in the recent Gold Sovereign Stakes.
The daughter of Nadeem boasts two wins and three placings from her five career outings and more than $80,000 in earnings already.
Right from the first time she was tested in track work Triple Asset showed she had an extremely bright future.
"I was told right from the start she was something else by Tegan (track rider) and she was a very smart horse," Keys noted.
"And Michael Rodd has backed that up by getting off her (today) and saying she was too good for the locals and she should head to Melbourne."
"We'll have a team meeting this week - but we'll more than likely send her to the paddock - but Melbourne is a great option to have."
Triple Asset was ridden to victory by Melbourne Cup winning jockey Michael Rodd who picked up the ride after regular rider Lincoln Coffey was injured earlier in the day in a barrier mishap.
"I feel so sorry for Linc," Keys said. "To have been a race like this on Cup Day as well as missing out on the Cup as well."
"He'd done so much work on the horse and it's definitely sad for him."
Rodd said the filly deserved a tilt at races in Melbourne in the future.
"She's obviously well educated," Rodd said. "Lincoln has done a lot of work on her - you certainly feel sorry for him."
"She pinged out of the barriers. I was always going to be positive. She showed good speed and I was able to get to the front and she switched off and settled nice."
"Just before the turn I gave her a little squeeze just to get her rolling and it was all over then."
"She went to the line not being fully extended," he added. "She's a nice filly who would be competitive in Melbourne."
"She's got a great nature and a great attitude and she has a massive stride for a smaller horse," Rodd summed up.
Keys and connections purchased Triple Asset for $28,000 at last year's Magic Millions Tasmanian Yearling Sale.
"She was plus GST and it was a pretty high amount at the time for Tasmania," Keys said. "But it's all looking good now."
At yesterday's 2011 Tasmanian Yearling Sale the Churchill Downs half sister to Triple Asset topped the sale when selling to Victorian trainer Mark Riley for $62,000.
"We bid to $60,000 but in the end we were the underbidders," Keys reported.
The father-son training team of David and Scott Brunton were more than delighted with their two fillies Buzzing Along and Cambalara running second and third respectively.
"They both ran well," Scott Brunton said. "The winner is very smart and it's no disgrace being beaten by her."
The Bruntons had already prepared a pair of winners on the day and their stable star Lady Lynette was due to run later in the Vamos Stakes.
The result was celebrated by the Whishaw family who bred and sold Triple Asset through their Armidale Stud draft.
Pictures: Greg Irvine

TOTE Tasmania Adopts Typhoon Technology
Friday, 10 June 2011 07:10
Tote Tasmania Ltd (TOTE) and Typhoon Gaming Pty Ltd (Typhoon) today announced that they have signed a Heads of Agreement (pending approval from the Tasmanian Government and final contract execution) for the licensing and installation of the Typhoon software platform, which will replace TOTE's legacy Alfa system.
TOTE's Core Wagering Replacement (CWR) programme was initiated in 2009 and, following a tender process, Typhoon was chosen as the Preferred Supplier in October 2010. The parties then conducted a Proof of Concept over Christmas and New Year. On May 11th 2011, the project kicked off and the parties are now fully engaged on the project.
Craig Coleman, TOTE CEO, stated. "We will replace our wagering back-end with Typhoon and change the business processes in the operations and front-end sales channels as well. Typhoon is a new, agile technology platform that will change the way we serve our customers globally. We will be a genuine 21st century customer service business. This means more products to customers sooner, and delivery at the right cost."
Typhoon CEO, Nicholas Plowman said. "We will deliver the software in the wagering back-end and across all the sales channels, including web, mobile, self-service / operator terminals and call centre. We will also provide Typhoon and Java training for TOTE's software engineering team so that TOTE can support and enhance its own sales channels going forward without incurring hefty fees."
"The project is coming together and we will keep our customers informed," Coleman said. "We have brought in change management specialists to drive through business change at TOTE and we are well equipped to tackle the Typhoon implementation. We will become a wagering market leader."
"From the TOTE Board to the software engineering team, everyone is engaged on this project. Obviously we are excited by the deal but especially by the approach TOTE has opted to take in adapting its business processes to accommodate a modern betting system in Typhoon. It is a forward thinking approach to wagering IT." Plowman said.
Dunn Suspended At Launceston
Wednesday, 23 February 2011 19:15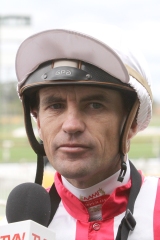 Jockey Dwayne Dunn will miss Saturday week's Group One Australian Guineas meeting after being suspended at Launceston on Wednesday.
Dunn was suspended for a period spanning three Tasmanian meetings after causing interference approaching the home turn in the Group Three Launceston Cup (2400m) aboard runner-up White Yard.
His suspension starts after Saturday's Blue Diamond meeting at Caulfield and he can return on March 7.
Dunn was charged with careless riding as at approximately the 400 metre mark of the Launceston Cup he rode his mount out when insufficiently clear of eventual winner Fast Future, causing that horse to be checked.
Fast Future was shifted out and bumped into Davcon as a result of the incident, and he in turn shifted onto Red Buttons.
Picture: Colin Bull

China Coup For Tasracing and TOTE Tasmania
Friday, 10 June 2011 07:06
The Minister for Racing Bryan Green today welcomed an agreement that will take Tasmanian racing industry expertise into China and potentially offer commercial opportunities for Tote Tasmania and Tasracing.

Mr Green said TOTE Tasmania and Tasracing last week signed the agreement with government officials and private sector investors from Fujian Province.

A world-class thoroughbred horse racing industry and supporting infrastructure is proposed for the Xiamen Special Economic Zone.

"This is a very positive endorsement of Tasmanian racing and the infrastructure that we have in place here," Mr Green said.

"There are very good opportunities for TOTE Tasmania to become a commercial partner with the industry in Xiamen as the preferred supplier of Chinese style lottery products.

"For Tasracing and our racing industry the export opportunities for Tasmanian bred and trained horses are excellent.

Mr Green said TOTE Tasmania was held in high regard in the emerging wagering markets of Asia.

"This is demonstrated by the fact that Chairman Michael Kent was appointed to the Advisory Board of Strategic Development for the China Centre for Lottery Studies (CCLS) at the Peking University last year.

The CCLS is a self-financed, non-profit academic institution that promotes research and professional training for China's rapidly developing lottery industry.

Mr Green said he looked forward to positive outcomes from the agreement.

"There are significant benefits available for TOTE Tasmania, Tasracing, the State's racing industry and the broader community," Mr Green said.
Lady Lynette Melbourne-Bound For Blamey
Wednesday, 23 February 2011 18:45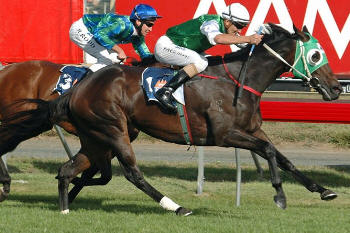 Star Tasmanian mare Lady Lynette is headed back to Melbourne for feature autumn races after getting the job done in front of her home state fans in Launceston on Wednesday.
Lady Lynette started a $1.40 favourite in the Listed Vamos Stakes (1400m) and the six-year-old got the better of the Gai Waterhouse-trained Princess Quality to win by three-quarters of a length.
Trained by David and Scott Brunton at Seven Mile Beach in Hobart, Lady Lynette will now progress to the Group Two Blamey Stakes (1600m) at Flemington on March 12.
"After the Blamey she'll then run in the Group Two Sunline Stakes for mares at Moonee Valley and she's unbeaten over a mile at Moonee Valley," Scott Brunton said.
"She has won the Tesio Stakes twice there."
Brunton said Lady Lynette wasn't really suited by the way the Vamos Stakes was run, but labelled the win a terrific effort.
"Sit and sprints are not her caper but she still won," he said.
"They (Lady Lynette and Princess Quality) beat the rest of the field easily so she has done a terrific job.
"Everyone might come here and tell you she's a certainty but there's no such thing in racing. She's won the race and we couldn't be prouder."
The stable also had I'm A Hussey entered for the Vamos Stakes but she was scratched and will have her next start in the Group One Robert Sangster Stakes in Adelaide.
Pictures: Greg Irvine

Elwick Could Be Upgraded Again
Friday, 27 May 2011 12:59
Hobart racetrack could be closed for almost a year as the track undergoes yet another upgrade.
Tasmanian newspaper The Mercury features a story on the back page of Friday's edition of the paper noting that TasRacing are exploring the possibility of closing the track immediately after the 2012 Hobart Cup to complete upgrades on the track.
However this is not the first time Elwick racetrack has been upgrades. It received a $27 million redevelopment during the 2006/07 season.
In the last two seasons, a total of nine meetings have been abandoned due to the state of the inner and outer tracks at the venue.
"Tasracing has identified the need to undertake some works on the thoroughbred tracks at Tattersall's Park given their age and the existing track profile," TasRacing Chief Executive Gary Lottering told The Mercury.
"It's very early days in the overall process. While Tasracing has undertaken some preliminary work, there is still a significant amount of planning work to undertake."
Fast Future Wins Launceston Cup
Wednesday, 23 February 2011 18:15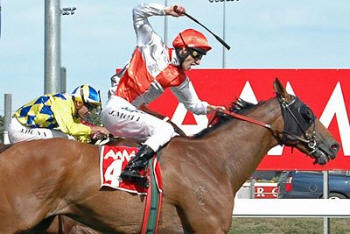 Melbourne gelding Fast Future denied a pair of local stayers to claim the Group Three Launceston Cup in a thrilling finish on Wednesday.
The Russell Cameron-trained eight-year-old raced midfield in the $225,000 feature over 2400m and after striking interference coming to the home turn, got into the clear and was able to overrun White Yard and Geegees Blackflash.
The gelding's owners were jumping for joy in the mounting yard as Fast Future had a neck advantage on the line over White Yard with just a head back to Geegees Blackflash.
Jockey Jamie Mott had Fast Future well positioned in running but then thought his winning chances were over as he was approaching the turn.
"That was a fantastic win," Mott said.
"Had a great run in transit but then pretty much got put sideways at the 400-metre mark.
"I thought his chances were over but to his credit he dug deep in the straight and was able to get up."
Cameron pinpointed the Group Two Adelaide Cup (3200m) on March 14 as a possible next major target for Fast Future who claimed his eighth career win at his 52nd start.
"He's been a good old horse, he's had a few injury problems and this is pretty rewarding," Cameron said.
"It's a great result, these owners have been very patient."
Fast Future headed into the Launceston Cup on the back of a last-start ninth in the Group Three Hobart Cup (2200m) on February 13.
"He didn't have much luck at Hobart," Cameron said.
"He got shuffled back and ran into a dead end.
"He's been a good old horse, whether he heads to Adelaide Cup now we'll just wait and see.
"He's paid for his way. We're not going to be retiring him just yet, he's still racing well and we're having a lot of fun with him still."
White Yard was the first home from the Tasmanian contingent and her co-trainer David Brunton was thrilled with her effort under Melbourne hoop Dwayne Dunn.
"This was what she was set for and we nearly got there," Brunton said.
An interstate trip for the Adelaide Cup could also be awaiting White Yard.
"That's probably not out of the question," Brunton said.
"We'll see how she pulls up but there's still a bit in the tank."
Hobart Cup winner Bid Spotter started favourite on track but finished 14th.
Picture: Greg Irvine