Cox Plate Plans For Boban?
Saturday, 09 November 2013 16:48
Chris Waller is already considering next year's WS Cox Plate for exciting weight for age candidate Boban, winner of today's Group 1 Emirates Stakes.
"Having had a taste for it at this Carnival, the Cox Plate sounds pretty enticing", Waller said.
Boban beats Smokin' Joey
"He'd have to continue to learn to settle but being out of an Oaks mare it always gives you that confidence if you step up to 2000m"
A former tearaway, Boban has been taught to settle in his races by Waller's training. The ability to relax in his races is paying big dividends.
"He's no longer a horse that has to be snagged back to near last and taught to settle because he actually jumped with them, held his position and did settle and to win good races you need to be able to do that", said Waller.
"Chris Waller and his team have turned this horse around from a tearaway rogue to what we've seen today and through the Carnival and I'm just the lucky guy to get on his back", said winning rider Glyn Schofield.
Boban
"The gate today allowed me to be that little bit closer but I was a tad concerned when Toydini allowed Spurtonic to sit out in front of him and I thought I was a length and a half further back than I wanted to be."
Boban ($3.80-$4.60F) settled mid-field and produced a powerful finishing burst to win by a half neck from Smokin' Joey ($21) with a short head to Speediness ($10-$9) in third place.
Trainer of the moment Wez Hunter capped off his stellar performance of training two winners from two runners during Cup Week with a Group 1 second from Smokin' Joey. The $180,000 second prize cheque his biggest in a short training career.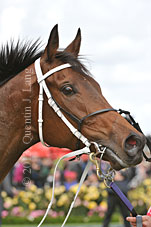 Boban
Waller was impressed with the determination shown by Boban in holding out Smokin' Joey.
"I thought he was the winner at the 100m but he had to find a lot in the last 100m and that shows that he fights as well".
"He was out of petrol and had to dig very deep so it was a brave win".
"He's made me look pretty special but the horse now has confidence and it's simple as that."
Boban will now spell with an Autumn campaign in prospect.
"He is a pretty exciting horse heading towards the autumn and beyond", said Waller.
"The way he is racing he might get 2000m but we'll just take one step at a time and take him through a weight for age path in the autumn because there are plenty of nice races at home for him."
"Even the Queen Elizabeth Stakes, they're talking that will be spruiked up with a big prizemoney jump so that could be the right time to try him over 2000m"
Photos: Quentin Lang
Boban Wins Group One Emirates Stakes
Saturday, 09 November 2013 16:15
Premier Sydney trainer Chris Waller has plundered the final Group One race of the Melbourne Cup carnival with Boban taking out Saturday's Emirates Stakes at Flemington.
Boban (purple colours) gets up inside Smokin' Joey
The vastly-improved galloper gave Waller his third elite victory during the four-day carnival following wins to Red Tracer and Zoustar last Saturday.
Maintaining his unbeaten record this campaign, Boban settled worse than midfield for regular jockey Glyn Schofield and finished strongly down the middle of the track to score.
Smokin' Joey closed late for second with Speediness gallant in defeat, finishing third.
Boban
Glyn Schofield said Boban had to dig deep after peaking on his run short of the winning post.
"He does possess a very strong turn of speed and of course, I only want to use it when I need to use it. But today his run came to an end about 50 metres from home and he just sort of clung on," Schofield said.
"It was a very tough effort from him."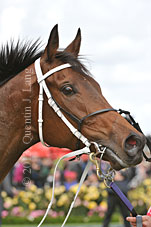 Boban
Waller confirmed he may test the proven miler over a longer distance in the autumn.
He named the Queen Elizabeth Stakes in Sydney as a likely target with a view to next year's Cox Plate.
"It could be the right time to try him over 2000 metres there," Waller said of the Queen Elizabeth.
"But obviously having a taste of this carnival, the Cox Plate sounds pretty enticing."
Photos: Quentin Lang
Boomwaa Bookends Laing's Cup Week
Saturday, 09 November 2013 12:48
Robbie Lang, the trainer of Boomwaa, runaway winner of the HKJC Maribyrnong Plate has a great record with two year olds during the Flemington Carnival.
Boomwaa wins the HKJC Maribyrnong Plate
"We won this race last year with Direct Charge and the year before that we got beat a neck with Andre Roo Hoo and the year before that we won the two-year-old fillies race with Spectrolite and the year before that we had She's Got Gears", Laing said.
Two previous race day outings gave Boomwaa the experience he needed to overcome the blustery weather and big race day atmosphere.
"His fitness and his experience was to the fore today because he absolutely bolted in", Laing said.
"On a windy day I thought the experienced horses would have it over the unraced horses because it's amazing what wind does to young horses."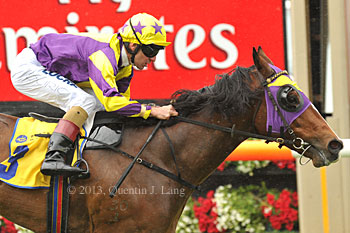 Boomwaa
Boomwaa ($7.00-$6.50) led all the way to win by three lengths from Lockroy ($4.20-$5.50) with favourite Silent Whisper ($4.80-$5.00-$4.60F) a long head away in third place.
Vlad Duric had the winning ride after he had piloted Boomwaa to a fourth placing at Moonee Valley on Cox Plate day. The Mutawaajid colt made his race debut down the straight in mid-October.
"Coming down the straight, he'd had that run before and he's obviously trained on", Duric said.
Laing purchased Boomwaa at the Inglis Classic yearling sale in Sydney.
"I looked at all the colts at the Classic Sale and Ii just saw him from a distance, I didn't even know what he was by and I was just thought he looked a great type, so I followed him to his box."
"He is a half-brother to Boom Time Savings who ran fourth to Miss Finland in the Golden Slipper."
Boomwaa
Laing expects that Boomwaa will be effective over more ground than today's 1000 metres.
"The way he goes, he'll be a lovely ride over 1400m or a mile because he covers a lot of ground, he always did right from when we broke him in."
Duric confirmed Laing's opinion.
"Even when I rode him the other day I said to Robbie that he's going to be a nice 1400m, miler-type as a late two-year-old, three-year-old and I still believe that as the races get over further he'll get better."
"He is a nice colt and he's on target to go to that Classic race for two-year-olds in January", Laing said.
Today's win bookended a great week for Laing after winning the Derby with Polanski last Saturday.
"I've had a great week with the Derby and now this Group 3 so it's beautiful", he said.
Photos: Quentin Lang, Fiona Tomlin
Second Group 1 For Buffering
Saturday, 09 November 2013 15:12
Evergreen sprinter Buffering won his second Group 1 race today, adding the Group 1 VRC Sprint Classic to the Manikato Stakes two weeks ago. For a horse which has spent a large part of its career in the shadow of horses like Black Caviar, Buffering has still collected nearly $4 million in stakes, winning 14 and placed in another 14 of 37 career starts.
Buffering
"Little Buffering has done the job and as I said to the boys earlier, there's no Black Caviar, no Hay List, no Sepoy, there's a Buffering", said winning trainer Robert Heathcote.
Heathcote not only has every confidence in his horse but also in relatively unknown rider Damian Browne who gets few opportunities to ride in Group races. Browne does most of his riding around the Queensland provincial tracks but boasts the extraordinary strike rate of 29% winners to rides.
Buffering
"He just gives us 100% every time and I had a runner in Brisbane before the race and I never even spoke to Damien about instructions because I didn't have to, he knew what he had to do and he went out and did it."
"I've made no secret that I have a huge opinion of Damien Browne, not only as a rider, but as a bloke and he's just so calm, cool and collected and prior to the race I didn't discuss riding instruction because I was happy to leave it to Damien."
Buffering & Damian Browne
While under pressure from Shamexpress in the concluding stages, Buffering won the race with superb mid-race sectionals which put pressure on his rivals to match strides.
"This horse improved again and it's just terrific for Rob and the whole bunch of guys in this horse for him to back up again this week and do it again", Browne said.
"The first furlong and a half I got through pretty quietly and as we came across the juncture I started to put a bit of pressure on and got them off the bit and as soon as I asked him for the kick he gave me a quick length and then it's just a matter of fighting them off."
Buffering
Heathcote stressed that Buffering won by being the best horse in the race.
"He put the pressure on coming to the 400m and I started to smile then."
"There were probably a few unanswered questions after the Manikato because a couple of people through he might have been lucky but there was no luck in that today, it was pure guts, determination and ability."
Heathcote has now won five Group 1 races and is eager for more. Buffering will most likely contest the Group 1 Railway Handicap in Perth during December.
"I'm still going to Perth because I've promised the boys so hopefully he'll be a nice drawcard for their carnival then he'll come home to Brisbane."
There is also the possibility of taking Buffering to Hong Kong.
"It's certainly a possibility and Hong Hong looks attractive at this stage now that he's got the couple of Group 1 wins."
Photos: Quentin Lang, Fiona Tomlin
Kirramosa Wins Thrilling Oaks
Thursday, 07 November 2013 16:38
The Crown Oaks at Flemington today produced a thrilling finish with inches between the first three placegetters, Kirramosa, Zanbagh and Solicit.
And connections of Zanbagh seriously considered throwing in a protest before giving up on the idea.
Triple dead heat coming up?
Glen Boss on Solicit set a nice even pace in front which allowed him to dictate the race until well into the straight. Blake Shinn on Zanbagh tracked him all the way and sent the little filly out to challenge at the 400 metre mark.
As she did on Saturday, Kirramosa, with Nash Rawiller replacing Tom Berry came from off the pace to chime in at the 200 metres and brushed with Zanbagh as she went to the lead.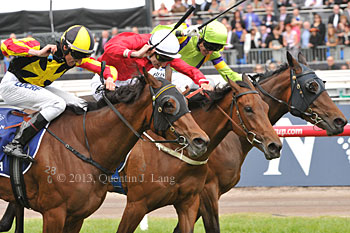 Kirramosa (outside) wins from Zanbagh (middle) and Solicit
Zanbagh's trainer Guy Walter viewed the stewards patrol video before deciding against a protest.
"We did brush and there was a bit of interference", Walter said.
"But we had plenty of opportunity to come back at the winner and we couldn't beat her so I don't think it made any difference to the result."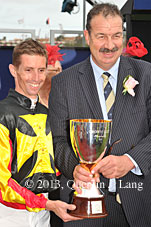 Nash Rawiller & John Sargent
Winning trainer John Sargent said:
"We needed every yard of it (Flemington straight) but the way she won today was very good."
"The inside horse was coming back strong but it was very good riding from Nash, he judged it perfectly."
Kirramosa and Crown Oaks rug
"She probably got headed inside the 150 metres but really fought hard", Rawiller said.
Sargent expected that Kirramosa would be back last as she was in the Wakeful Stakes on Saturday but Rawiller had other ideas, settling midfield.
"She was a bit further forward than I thought she would be but she jumped well so he just put her up there and put her to sleep but the big question today was whether she'd back up."
Rawiller explained:
"She is very brave, very tough and I rode her a little bit against her normal racing pattern although she was able to win her maiden sitting up on the speed."
"I jumped really well and I had a look across and there was no urgency from anyone so just tried to get her into a rhythm and rode her from there and the best stayer has won."
Crown Oaks placegetters
Sargent who has recently set up permanently in Sydney after moving from New Zealand, was thrilled that Alamosa, the sire of Kirramosa had produced a Group 1 winner.
"It's good to get a win for Alamosa because he's the leading two-year-old sire in New Zealand and one of the owners owns Alamosa so it's a fantastic result for the whole (New Zealand) industry."
Kirramosa's Spring mission accomplished Sargent is planning for 2014.
"There's not a lot of her, she's only a light filly but she's got a very good constitution and a great temperament", he said.
"We'll just put her aside now for six weeks and we'll probably target Sydney in the autumn."
Photos: Quentin Lang
Dothraki Withstands Protest
Saturday, 09 November 2013 14:21
Sydney galloper Dothraki withstood a protest from runner up Suavito to retain his win in the Hilton Hotels & Resorts Stakes at Flemington this afternoon.
Beaten by only a long head, James Winks on Suavito fired in a protest alleging interference from Dothraki, ridden by Nash Rawiller over the concluding stages of the race.
Dothraki
Stewards threw out the objection on the basis that while there was interference, they did not think it was of sufficient magnitude to change the outcome of the race.
Dothraki had a little backing from $14 into $12 while Suavito was well supported from $7 into $5. Third placed Consorting, only a long head behind Suavito was also backed from $5.50 to $4.40.
Dothraki
Winning trainer Gerald Ryan has always had a big opinion of Dothraki, comparing him favourably to stable star Snitzerland.
"I've always had a huge wrap on him and he's probably the only horse in the stable that can get anywhere near Snitzerland", Ryan noted.
Dothraki with Suavito (obscured) and Consorting (outside)
Snitzerland ran second in the Dilmah Earl Grey Stakes on Cup Day and Dothraki accompanied her to Melbourne.
"The only race we could find was this so we came down and had a crack", Ryan explained.
Dothraki had been running over sprint distances but Ryan took on board the suggestion of rider Jay Ford to step him up in distance.
"He's just taken a while to put it together and Jay Ford when he rode him the other day suggested that I go to 1400m where there's less tempo", Ryan said.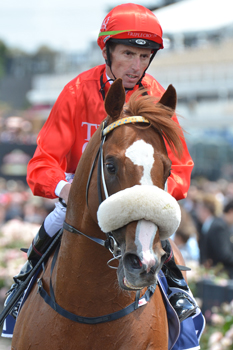 Dothraki with Nash Rawiller
Rawiller has only ridden Dothraki once before when he ran third on the Kensington track at Randwick in early October.
"Full credit to him today because he was stepping up in trip but Gerald had him in terrific order", he said.
"We got across outside the leader and raced beautifully off a moderate tempo and he was very strong to the line."
"He was a bit lost but when the horses came out him he found more."
His job done for the Spring, Ryan plans to spell Dothraki.
"He'll be on the float to go home tomorrow night because I still think the horse has got a lot to learn."
Photos: Fiona Tomlin, Quentin Lang
Woman Attacked In Flemington Mounting Yard
Thursday, 07 November 2013 16:15
A man who king hit a female strapper in the mounting yard at Flemington faces police and racing charges.
The young woman was waiting for Black Cash to return after his win in the greys race at Oaks Day on Thursday when the man, believed to be someone she knew, attacked her and she fell to the ground.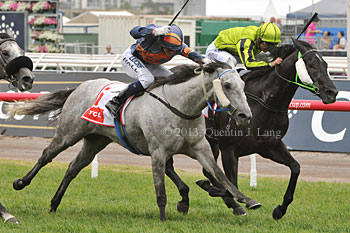 Black Cash Wins The Greys Race
The incident, witnessed by chief steward Terry Bailey, was also captured by the Seven Network, but Bailey asked the broadcaster not to air the footage as it would be used as evidence.
The man, a registered stablehand with a leading Flemington stable, ran off to the horse stalls, where he was caught.
The young woman had a black and swollen cheek when she brought the horse back to the winner's stall and Bailey sent her for medical attention.
"We will let the police do their job," Bailey said.
"He is a registered person and we will also be speaking to him."
Wez Hunter Stable On Fire With Bel Thor
Saturday, 09 November 2013 13:59
With only a few horses in work, Wez Hunter has surpassed a lot of bigger stables with two wins from his only two runners during Cup Week.
Last Saturday Smokin' Joey won the Tab.com.au Stakes at Group 3 level and today the Hunter trained Bel Thor was successful in the Antler Luggage Handicap. In fact Hunter has won with the last four horses he has saddled up with Our Smokin' Rock winning at Tatura and Sale.
Bel Thor
"It's been a massive week, we're flying and it's great", an elated Hunter said.
In today's race Bel Thor ($3.50-$3.90-$3.70F) went one better than he did at Moonee Valley on Cox Plate day, winning convincingly by 2¼ lengths from Keep Cool ($12-$13-$11) with three quarters of a length to Supremacy.
"He really deserves this win because before today he hadn't won a race in town but he's won over $100,000 and there were a few people knocking him but he'd been a bit stiff", said Hunter.
"I couldn't time it any better and it's a huge thrill."
Bel Thor
Winning rider Ben Melham said:
"I thought the speed would be genuine and he's a horse that races best at 2000m when he can get up behind them for as long as he can."
"He's got a good, sharp turn of foot but it's not for long so I was happy to keep held up into the straight and when he let down he let down good."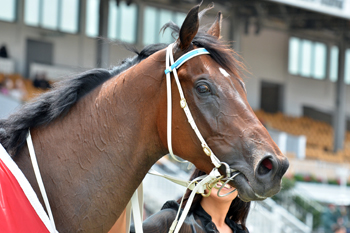 Bel Thor
Hunter has trained Bel Thor for all of his 20 starts for three wins and nearly $200,000 in prizemoney.
"We've had him from day dot and it's really satisfying for this horse to put them away like that", he said.
"We've had a good opinion of him from day dot and he's raced out of his class a lot and he's raced all the way through bar a couple of ordinary runs in South Australia."
Photos: Fiona Tomlin
A Treble For Waller
Thursday, 07 November 2013 15:11
Trainer Chris Waller brought up three of the first four winners at Flemington on Oaks Day with the victory of Dystopia in the Group 3 GH Mumm Stakes.
The seven year old Dystopia ($4-$5F) produced her seventh career win by beating Shamal Wind ($6.50-$7-$6.50) by a length and a half with a short head to third placed She Can Skate ($9-$7). Dystopia went one better than this race race last year when she was a nose second to Honey Flower, which was unplaced today.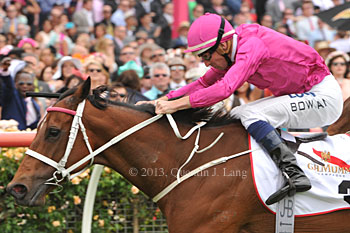 Dystopia
"Hopefully it's not the last time" was Waller's response when asked how he felt about training a treble at Flemington.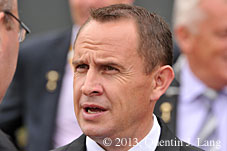 Chris Waller"It's all made possible by a great team in Sydney and here, they send the horses to the races in great condition, and good supporting owners and good jockeys – three different jockeys today."
"We're very proud to have one winner but to get three winners on a big day like today is very special to us."
Waller credits winning rider Hugh Bowman with today's win, explaining:
"Hugh Bowman's done a lot of work with this horse."
"She's not an easy horse to get to win, she's certainly got the ability and she's run some great races and this won't be the last race she wins, but full credit to Hughy. He just gave her a very nice ride and timed to perfection.
Bowman said:
"I ride her all the time, I know her well and she's got a really good turn of foot and the 1100m is just what she's after and the straight race helps too because she just needs to be smothered up and with the straight racing you don't have to settle too far back."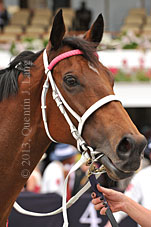 Dystopia"She's a very consistent mare and she gives you the impression she'd love to run over further but I've ridden her a lot now and Chris and I have worked out that the 1100 - 1200 metres is her go."
"She was unlucky in this race last year, she just got caught up in traffic and just missed and I'm pretty happy I got the job done for connections today."
Dystopia has now added a Group 3 win to her two wins at Listed level last year and connections are convinced that she has more good races in her despite being a seven year old.
Bowman suggested:
"She wouldn't surprise me if she went up in class and was competitive."
Photos: Quentin Lang
Post D'France Delivers A Carnival Win
Saturday, 09 November 2013 13:30
The winning combination of Patrick Moloney and Post D'France continued at Flemington with the apprentice jockey making it five wins from six rides after victory in the Secondbite Plate.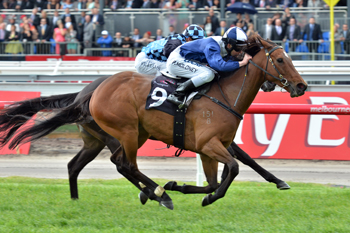 Post D'France beats Xavi
After wining a city and two provincial races mid-year on Post D'France, Moloney was back on the five-year-old gelding in October, guiding him to a win at Cranbourne before suspension forced him off the ride at Moonee Valley last start where he lost in the final stride.
Moloney rode a patient race on Saturday after a fast tempo set by early leader Spacecraft and was four lengths off the lead at the start of the long Flemington straight when he made his move.
Post D'France ($11) reeled in the leaders, but had to fight off a sustained challenge from Xavi ($11) to win by a half length with favourite Sysmo ($3.70) a fading third.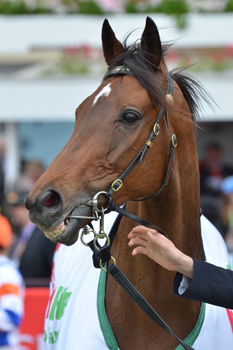 Post D'France
Trainer Stephen Brown, a former jockey who rode more than 1000 winners over a 35-year period, mostly in Darwin and Adelaide, had no qualms in re-instating Moloney on Post D'France.
"He knows the horse inside out and I was really happy for him to ride it," Brown said.
It was the first win for both jockey and trainer during the spring carnival.
Patrick Moloney
"The track was always going to suit him and Patrick got into a perfect position and did a good job for us."
Moloney said Post D'France found an extra gear when Sysmo had threatened down the straight.
"Once he hits the front he pulls up stumps because he knows he's got the job done," Moloney said.
Photos: Fiona Tomlin, Quentin Lang
Early Double For Waller On Oaks Day
Thursday, 07 November 2013 13:39
Chris Waller collected the first two races at Flemington on Oaks Day when Multilateral came with a late burst to win the Swisse Wellness Trophy.
Multilateral starting favourite at $3.80 won by a long neck from longshot Adjuster ($26) with a short head to Red Inca ($15-$17).
Winning jockey Jim Cassidy, fresh from his 100th Group 1 win aboard Zoustar in the Coolmore Stakes on Derby Day, produced a well timed run.
Multilateral
"I was a little bit off the bit coming to the corner and they sort of pushed me out of the way, it took me a bit to get going, but I was strong late", Cassidy said.
"He was strong late the last bit and he was probably always going to do that coming back to the 1700 from the 2000 in Sydney a fortnight ago."
Cassidy believes that its necessary to ride Multilateral patiently in order for him to produce his best.
"He's just got to relax", Cassidy explained.
"He goes hard and if you can get him off the bit he relaxes and he's strong late."
Multilateral was Waller's fourth winner for Cup Week, making him the leading trainer by winners. He is also leading the Flemington trainer's table for the season with 7 winners overall.
Photo: Quentin Lang