Hawks Bay Wins Darwin Cup
Monday, 01 August 2011 18:45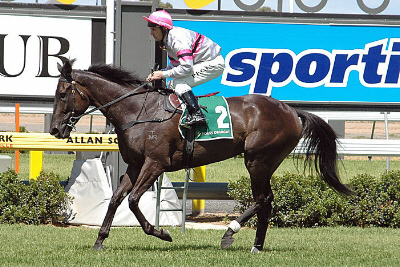 Steven Arnold gave a masterclass in the saddle as Victorian galloper Hawks Bay buried a Darwin Cup hoodoo on Monday.
Making his third appearance in the $180,000 Cup, Hawks Bay claimed Darwin's biggest horse race after being runner-up in 2009 and 2010.
Arnold, who partnered champion galloper So You Think to victory in last year's Cox Plate, gave Hawks Bay the perfect run.
The heavyweight jockey had Hawks Bay ideally positioned in fourth place before he made his move at the 400-metre mark.
Despite being burdened with 62kg, Hawks Bay joined in strongly and held a decisive margin over his stablemate Palmyra Boy and Blackbriar.
Hawks Bay's trainer, Kyneton-based Neil Dyer, has been a regular visitor to the Darwin Cup carnival.
It was homecoming win for Arnold who plied his trade in the Northern Territory before heading to Victoria.
But this time he didn't have to share the spoils after he dead-heated for first with Kingston Reserve in 1995.
Picture: Greg Irvine

Darwin Cup Weights Released
Tuesday, 27 July 2010 10:04
Reigning Darwin Cup winner Activation has been announced as topweight for the $160,000 Carlton Mid Darwin Cup (2000m) at Fannie Bay on August 2.
The Michael Hickmott-trained galloper has been allocated 58.5kgs for the Northern Territory's biggest race of the year.
Other notable runners include He's Here (57kg), Hawks Bay (56kg), Brad Star (54.5kg) and Honourable Kind (53kg).
Below are the full list of weights for the Darwin Cup.
Fannie Bay (August 2)

$160,000 Carlton Mid Darwin Cup (2000m)
| | | | |
| --- | --- | --- | --- |
| # | Horse | Trainer | Weight |
| 1 | ACTIVATION (NZ) | Michael Hickmott | 58.5 |
| 2 | HE'S HERE | Kerry Petrick | 57 |
| 3 | HAWKS BAY | Neil Dyer | 56 |
| 4 | SHOUT OUT LOUD | Kerry Petrick | 55 |
| 5 | GRANZIG | Mick Whittle | 55 |
| 6 | BRAD STAR | Vincent Bradley | 54.5 |
| 7 | INSTRUCTOR (NZ) | Viv Oldfield | 54.5 |
| 8 | MACCAS DREAM | Lynne Williams | 53.5 |
| 9 | UTILITY (NZ) | Stephen Brown | 53 |
| 10 | AWE AND WONDER | Viv Oldfield | 53 |
| 11 | CLUB LIQUID | Dick Leech | 53 |
| 12 | PALMYRA BOY | Neil Dyer | 53 |
| 13 | MOLOTOV | John Stanton | 53 |
| 14 | GNAEUS EQUUS | Nev Connor | 53 |
| 15 | AMYJAYE POWER | Gary Kennewell | 53 |
| 16 | HONOURABLE KIND | Lloyd Kennewell | 53 |
| 17 | TEST THE SCENE | Neil Dyer | 53 |
| 18 | REGANSBURG | Mick Whittle | 53 |
| 19 | URBANE BOY | Ken Rogerson | 53 |
| 20 | STALINGRAD | Stephen Brown | 53 |
| 21 | MUSTY SPRINGS | John Hickmott | 53 |
Dyer On Top With Hawk's Bay
Friday, 24 July 2009 10:00
The champagne glasses were being raised in Darwin this week after what proved a bonanza week-end for Kyneton trainer Neil Dyer.
After winning the Darwin Guineas the previous week with Hawk's Bay, the duo were back in the winner's circle again on Saturday taking out the Derby.
Now it is all stops out for the Darwin Cup over 2000 metres, and the $100,000 bonus attached to the race.
The Cup could not go to a more deserving cause than Dyer, he has been a great battler, and would have to be to tackle the 3,700 kilometre trip up the "Red Centre" to Darwin.
The team left sometime on the Sunday and arrived on the Wednesday afternoon non the worse for wear but preferred to stand up for a while rather than accept an easy chair for obvious reasons.
Naturally there are no immediate plans for Hawk's Bay, like the team that took him to Darwin, they may all be looking for a bit of a break.
Distance has never really bothered Dyer in all those years at Kyneton, he is still a regular around Millicent, Penola and Naracoorte over the border in South Australia.
He has a philosophy of taking a horse where it can win, there is no point in bringing home a loser.
Mrs Bentley is possibly the best horse he has trained, then there are some that say "the best winner was the last one".
Darwin Trip Still Possible For Hawks Bay
Monday, 17 May 2010 00:00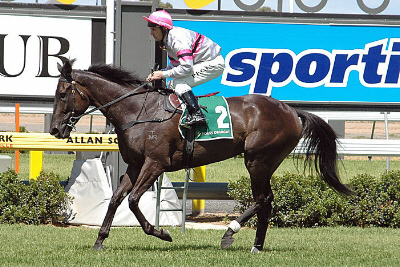 Kyneton trainer Neil Dyer is heading back to the top end for the Darwin Cup Carnival that continues to grow in popularity.
Last year it proved a bonanza for him winning the Darwin Guineas, the Derby and running second in the Darwin Cup with his star of the team Hawks Bay.
While nothing can be taken for granted, Dyer believes he has the fire power to let them know he is back in town.
After a successful trip to the Alice Springs Cup a couple of weeks ago, where he won two races, and a winner at Bendigo last week,  the stable is currently on a high.
It is yet to be decided whether last years winner Hawks Bay will be an inclusion in the team this time.
He was a shade disappointing at Flemington last week after leading for the majority of the trip.
He couldn't quicken when called upon in the straight, thus finishing out of a place.
However, he had a sharp rise in weight from his previous win at Flemington over the same distance and he was set a pretty tough assignment to lead all the way.
"There is still plenty of time to decide on Darwin, plus the weight he receives will be another factor to be considered," said Dyer.
Picture: Greg Irvine

Hawks Bay Makes Fannie Bay Home
Monday, 20 July 2009 10:00
Victorian three-year-old Hawks Bay has the opportunity to snatch a $100,000 Triple Crown bonus if he wins the $150,000 Carlton Draught Darwin Cup (2000m) on August 3.
If successful, he'll be the first horse since Ventilago in 1996 to complete the treble of the Guineas, Derby and Cup.

And that is sure to bring a smile to the face of former jockey Brenton Primmer.
On Saturday in the $100,000 Northern Territory Derby (2000m), Hawks Bay fought off the late surge of classy South Australian visitor, Honorable Kind, to claim victory by just a half-head.
That win ensured Hawks Bay has earned in excess of $100,000 in prizemoney from its past two starts, exceeding the expectations of trainer Neil Dyer.
"To win the one race was great but to win two is just fantastic," Dyer told Sport 927 this morning.
Arriving in Darwin before the official 'kick-off' of the carnival, Hawks Bay failed to perform at his first run on the oil-based surface, finishing fifth beaten six lengths from the winner.
He bounced back at his next start to win the $50,000 Darwin Guineas (1600m) by 3 ½ lengths before winning once again at Fannie Bay on Saturday.
Dyer also revealed former jockey Brenton Primmer is a part-owner in Hawks Bay.
Primmer was involved in a heavy fall at Warrnambool back in September 2006 which immediately ended his riding career and threatened to take his life.
"Brenton rode the half-brother of Hawks Bay, Peace Prize, and won on it a couple of times early on in its career," Dyer said.
"He told us that it was his favourite horse.
"So when he was recovering in hospital from the fall, as a gift we gave him a share in Hawks Bay," he added.
Primmer is expected to travel north to watch the race trackside in a fortnight's time.
That's reason enough to cheer Hawks Bay home.
PIC - Jenny Barnes
Darwin Racing On Sky Racing2
Friday, 07 May 2010 18:16
All Darwin thoroughbred racing will now be on Sky Racing's new channel, Sky Racing2, with the racing broadcaster securing the media rights of the Darwin Turf Club.
Commencing with Friday's meeting from Fannie Bay, Sky Racing2 (channel 520 on FOXTEL and AUSTAR) will be home to 40-plus Darwin race meetings per year.
Darwin's feature race days, such as the Darwin Cup and Palmerston Sprint meetings, will be showcased on Sky Racing's thoroughbred racing channel, Sky Racing World (channel 521 on FOXTEL and AUSTAR).
As part of the long-term alliance, Sky Racing has become a major sponsor of the Darwin Cup Carnival.
Another important element of the partnership involves Sky Racing becoming responsible for the exporting of Darwin racing to the world, presenting important opportunities for the Darwin Turf Club and Sky Racing.
Sky Racing markets and exports Australian racing on behalf of Australian race clubs to 30 countries, ensuring Australian racing is seen and wagered on around the world.
The Australian racing industry received more than $6 million from these export arrangements last year alone.
"Sky Racing is pleased to be entering into this commercial partnership with the Darwin Turf Club. We are committed to lifting the exposure and financial returns for top end racing and working with the Darwin Turf Club to make that happen," said Sky Racing Chief Operating Officer Brendan Parnell.
Darwin Turf Club Chairman Brett Dixon said: "The launch of the new Sky Racing channels has created new opportunities for clubs such as the Darwin Turf Club.
"We are excited to be part of Sky Racing's expanded racing coverage and look forward to working with Sky Racing in the interests of promoting thoroughbred racing."
Severino to Learn Fate Soon After Appeal
Monday, 11 May 2009 10:00
The result of an appeal by Darwin trainer Rui Severino over a one year ban is expected within the next two weeks.
Severino appealed the disqualification handed down in late April by NT stewards in relation to two charges - the most serious of offering money to a rival jockey to lose a race.
He was found guilty of offering Alice Springs jockey Damion McIntosh a sum of money, reported to be about $300, to not win aboard his mount Rishikesh at Fannie Bay in January.
McIntosh reportedly refused to take the money and won the race.
Severino was also handed a three month ban in relation to him stealing the riding gear of McIntosh subsequent to the race from the stables of former top jcokey, turned trainer Gary Clarke.
The appeal before the Northern Territory Racing Appeal Tribunal was scheduled for Friday, but was undertaken this morning.
Severino was represented by well known Melbourne based barrister Dyson Hore-Lacy.
Chairman of the Tribunal, Susan Porter, has heard from all parties in the appeal hearing and has reserved her judgement.
Porter said she was keen to hand down her decision within the next fortnight.
Leading Jockey in Induced Coma
Wednesday, 05 August 2009 10:00
Leading Northern Territory jockey, David Bates, is in an induced coma following a nasty fall from Rose Marie in the $16,000 Man to Man 0 - 66 Handicap (1300m) at Fannie Bay last Saturday.
Bates fell heavily at around the 600m mark on the oil-based surface and has since been diagnosed with a fractured skull.
Medical assistance was quickly administered to Bates and he was taken to Royal Darwin Hospital promptly after the fall.
Doctors now plan to take Bates out of his induced coma on Friday afternoon.
"We are quietly optimistic but not overly optimistic - given David is an elite athlete and very tenacious young man," Royal Darwin Hospital general manager, Len Notaras, told Northern Territory News today.
"We will hope that towards the end of the week we will be in a lot better position to say whether he is going to recover."
The fall from Rose Marie was Bates' second in a week.
Last Wednesday, Bates fell from Wonsok in the $15,000 Shenannigans 0 - 76 Handicap (1600m) at the same venue.
Fellow riders Scott Sheargold and Stephen Ridler were also brought down in Wonsok fall.
Sheargold suffered a broken collarbone, while Ridley rode under duress to win the $150,000 Carlton Draught Darwin Cup (2000m) aboard Activation on Monday.
Bates was able to ride Gallium in last Saturday's feature race, the Palmerston Sprint (1200m) however finished in seventh position.
A race later he fell from Rose Marie.
He's Here Wins a Thrilling Alice Springs Cup
Monday, 04 May 2009 10:00
Veteran Northern Territorian jockey Paul Denton won his fourth Alice Springs Cup today when he partnered He's Here to victory for his lifelong mate Kerry Petrick in the red centre feature.
In a driving finish He's Here and Denton were able to get up and beat a gallant front running General Market by a neck.
"It was a great win," a delighted Petrick told TVN. "I was a bit worried there for a bit when he couldn't get out."
"But anyway he got out in time. It's great!"
Petrick said He's Here joined her stables after being contacted by leading Melbourne horseman Peter Moody.
"Peter Moody ran me and said I might have a three-year-old to send up to you for the Derby."
"He said it's racing at Mildura today and if it wins I'll send it up. Anyway it ran fifth and he said, no it's not good enough."
"But I talked him into sending it up anyway. So that's how I've ended up with him."
The Alice Springs Cup was never fully on the plans for He's Here. He was one of the team Petrick sent to South Australia earlier in the year.
"He got a bit of sickness in Adelaide, so I tipped him out and I was actually going to go straight through to Darwin."
"But after he was tipped out I thought about it and seeing as though the plans had changed I decided to have a crack at Alice Springs."
The win was the second Cup success for the Petrick-Denton trainer-jockey combination - but it was ten years in the waiting.
"It was a super ride. Dash (Denton) and I have known each other since we were little kids basically."
"He actually used to ride for my Mum when he was an apprentice."
"We've had great success over the years. I think it's ten years ago since we won this race together and we've done it again - it's fabulous."
Petrick said He's Here would now be aimed at the Darwin Cup in the Top End in early August.
"We'll head to Darwin. He's proven he can run on that track up there as well."
"We're heading for the sunshine."
Denton, who like Petrick spent a period in Adelaide in the lead up to the Alice Springs Carnival, was also aware of the cup drought.
"I said to Kerry the other day that my last Cup winner was back in 1999 and it was on one of her horses."
He said there were a few anxious moments when he was seeking a run to get out after the leader approaching the home turn.
"I probably wanted to pop out at the 900 because I knew they were going to sprint up. But Nozi held me in there."
"But the leader gave a good kick and a furlong late Nozi was gone and it allowed me to get out and the last furlong it felt like Flemington."
He's Here ($3.30) got up to beat a gallant General Market ($21) by a neck on the line.
The well backed favourite, reigning NT Derby winner Protesta ($3 fav), was a further three parts of a length back in third place.
PIC - Greg Irvine.
Emotional Victory For Hickmott As Activation Switches On In Darwin
Monday, 03 August 2009 10:00
One-time fourth placegetter in the Caulfield Cup, Activation, provided young trainer Michael Hickmott with one of his greatest racing moments after he won the $150,000 Carlton Draught Darwin Cup (2000m) this afternoon at Fannie Bay.
Getting a lovely run in transit, jockey Steven Ridler took Activation to the lead with a couple of furlongs to go and kept him going to hold off the late effort of Hawks Bay to 1 ¾ lengths.
That defeat meant Hawks Bay failed to become the third horse in history to win the Triple Crown of the Guineas, Derby and Cup and pocket a $100,000 bonus.
South Australian visitor, Honourable Kind finished third, beaten 6 ½ lengths behind second.
Hickmott was clearly emotional after the result, and was seemingly full of praise for everyone involved in the horse.
"I love this horse," Hickmott said.
"I love my big brother Robbie, he's done everything for me.
"And Steven Ridler, he's so tough. He shouldn't have been able to ride him.
"I love Steven as well.
"I just love this horse so much.
"I asked my mate Mark Pegus when I got him, 'how will I improve him?' and Mark said 'get him a new motor mate'.
"I was very confident, my brother works at Lloyd Williams and he said that if I get him right he'll win and I knew I'd get him right because we put some much work into him.
"I've been riding him in his work on the beach and I knew he was spot-on for this," he added.
Ridler was involved in a nasty fall on Wednesday at Fannie Bay and despite nursing some soreness, willed himself to ride Activation.
A winner of nine from forty starts, Activation has now won $842,800 in prizemoney.
This was his first win from three attempts in Darwin.
Darwin Trainer Facing Race Fixing Charge
Thursday, 26 March 2009 11:00
Darwin trainer Rui Severino will deny a race fixing charge laid by Thoroughbred Racing NT stewards at a hearing on Monday night.
Severino faces two charges - the most serious of offering payment for a rival jockey to lose on a mount.
It is alleged that Severino offered Damion McIntosh money to not win aboard the Shane Clarke trained Rishikesh.
McIntosh is believed to have turned down the payment and duly won the race at Fannie Bay on January 9.
The Virtual FormGuide understands the figure alleged to have been offered was around $300.
Severino trained the former Guy Walter galloper for a short period and raced him once - when eighth of ten at Darwin in July, 2007.
Ever since that race, Rishikesh's first in the Territory, the gelding has been trained by Shane Clarke - the man best known for training Group One winner Undue.
"I intend to plead not guilty to the charged and will defend myself vigorously against the allegations," he told the Northern Territory News.
"There are the first charges ever to be laid against me under the Australian Rules of Racing since I started training at Fannie Bay in December 2002."
"But I don't think it is appropriate for me to make any further comment as I don't want to prejudice the inquiry," he added.
NT's chairman of stewards Lindsay Lane told the Northern Territory News the hearing is perhaps the most serious levelled in the state.
"In my time in the Territory we have never had a case with such significance before the stewards," he noted.
"We were confident enough to charge Rui with the evidence we have gathered and he has the opportunity to answer those charges next Monday night."